2013.08.22
New Book by Blythe & Jeffrey Fulvimari
CWC Books celebrates international Blythe Artists in "Metamorphosis- Art of Blythe-"

"Metamorphosis- Art of Blythe-" is a new photo book that showcases a global cast of artists who use Blythe as their muse and canvas.
A total of 19 artist from around the world were chosen by Blythe Creative Producer, Mrs. Junko Wong to participate in this special project. Each artist uses Blythe as the base to make beautiful transformations into works of art.

Each section goes in depth with the individual artists with captions about each image.
In addition to that, there is a special Q & A section with each artist where they share their stories about their creations and love of Blythe. With "Metamorphosis- Art of Blythe-" you will see the many ways our favorite muse of Blythe is transformed by the talented hands of international artists. It's a microcosm of fantasy, beauty, and innovation.

Participating Artists
Junie Moon, ouioui, Tokyo Rose Eric,  Odani Miyuki, Leonidas, kobana_sweet_graphic, Jodie♥dolls, Stable House, Melacacia, Hola Gominola, My Delicious Bliss, Mab Graves, haco. , Mitsubachi @ BabyBee, *Soleil*, G.Baby, Rougedolls, kinokotti, Erregiro

Content
Artist portrait, custom Blythe doll photos, artist profiles, interviews, caption descriptions, and afterward written by Mrs. Junko Wong.

"Metamorphosis- Art of Blythe-"
Price: 2,940 JPY
Release Date: October 2013

Editor: Junko Wong
Publisher: CWC BOOKS
Publishing House: Graphic SHA
Size: H240×W188mm AB
Style: Softcover, parallel binding
Pages: 200
ISBN 978-4-7661-2559-7

Junie Moon International Online Shopping will take preorders for this book from September 13, 2013.  The book will be released nationally throughout Japan on October 1st.
For more information, please check www.juniemoonshop.com to place your preorder.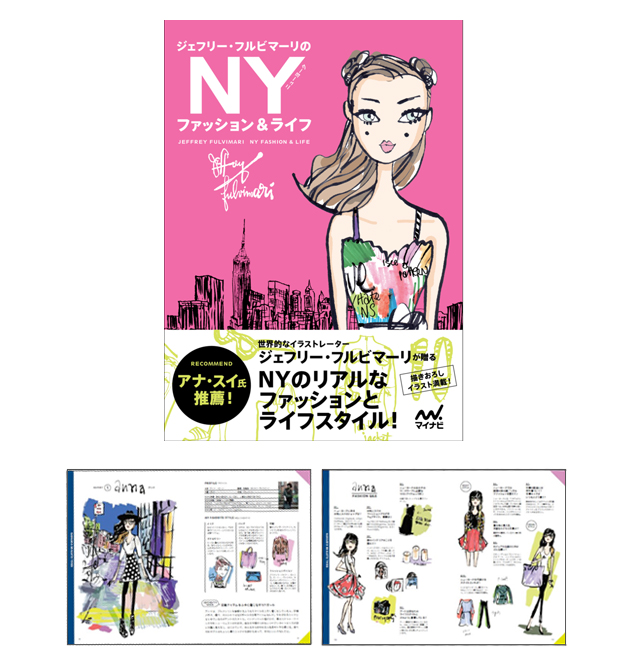 Fulvimari's NY Fashion and Life
New Book by Jeffrey Fulvimari

With original illustrations, "Jeffrey Fulvimari's NY Fashion and Life," introduces fashion, lifestyle, trendy spots in New York from Jeffrey's real life experience of over 20 years in the city he loves.
In the book, he interviews 6 inspiring women living in New York. They talk about fashion, makeup and their lives in the city.
Along with the interviews, Jeffrey adds fashionable comments and original illustrations of these beautiful ladies!

Jeffrey Fulvimari's NY Fashion & Life
Price: 1600 yen (tax included)
Written by Jeffrey Fulvimari
■ISBN:978-4-8399-4450-6

Release Date: 2013. 8.23