2013.11.07
She's a quirky little forest fairy! These are Petite Blythe "Suri tebyA lyublyU" final specifications.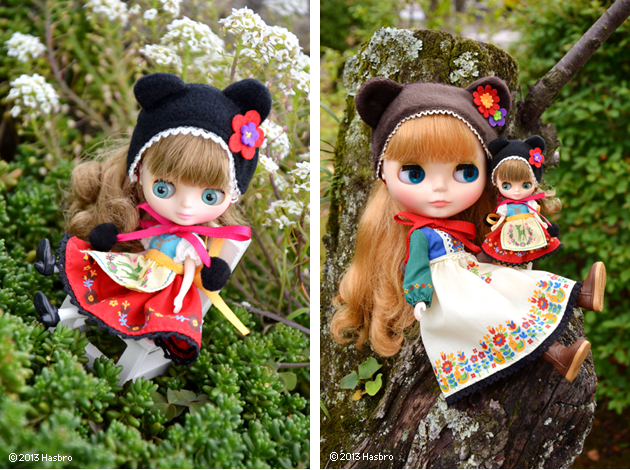 Suri the fairy was flying around the forest one day when she met Misha, who was picking wild strawberries with her bear family.
Suri and Misha became great friends; they frequently got together to play with Misha's bear family, pick berries and fruits together, and frolic in the forest.

Suri and Misha wear warm, ethnic style clothing that is inspired by the things that inhabit their forest.
Misha's puff sleeve one-piece dress and apron are adorned with a pattern of flowers and birds, and her bear-eared hat lets her fit right into her bear family.
The satin ribbon and pom-poms with the flowers by the ear of the hat makes the cuteness level skyrocket!
Her shoes are a low-heel, one strap type.

Her hair is a light brown which is slightly curled at her bangs, and flows down to her waist.
Her eyelids and eyeshadow is a brown that emphasizes her eyes, and the cheek and lip is a bright pink. Her stand will be yellow.

Skin Type: Fair (Natural Skin)
Make up: Eyeshadow - Brown, Lip - Pink, Cheek - Pink
Eyelids: Brown
Eye Color: Blue Green (left)
Hair Color: Light Brown
Set: Doll, One-piece Dress, Apron, Bear Hat, Shoes, Stand
 
Release Date: December 13th, 2013 (Fri) On Sale
Price: 3,990¥ (Tax Included)

Junie Moon International Online shopping will sell this doll from December 13th. www.juniemoonshop.com