2014.03.20
Neo Blythe "Mandy Cotton Candy" is ready for the amusement park!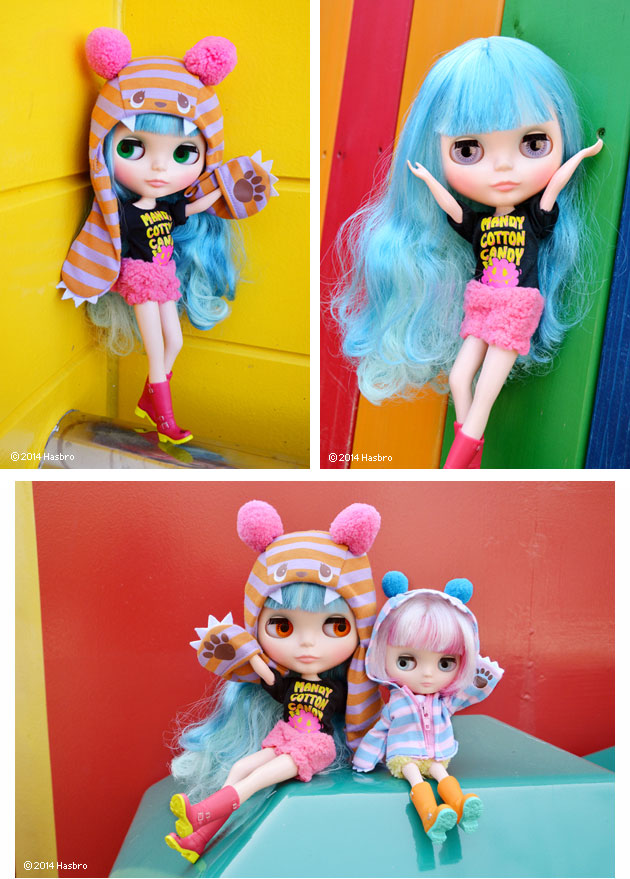 Mandy is going to the amusement park with her best friend Yellow Marshmallow.
After exploring the wild rides and fun games is time to enjoy some cotton candy!
We had such a fun day!

Mandy wears a fun new monster face hood! The order and lavender stripes are accented with cute, pink pom-pom ears, fangs and little claws.
This sweet hood transforms her into a little fashionable monster.
Her hands can go into the little pockets to become paws.

Her t-shirt has her name "Mandy Cotton Candy" with cute monster motif.
The shirt is a one piece jumper with whimsical and fluffy shorts. Also, note her
bright pink boots. There's a special surprise monster face printed.

Mandy's further charm point is her unique hair. It's baby blue on top and mint green in the underside of her hair.
There are many ways to arrange her sweet hair style for lots of new looks.

She is a cheerful girl, and has fresh and youthful makeup.
She has fresh pink lips and cheeks. Her eyeshadow is a soft teal. 


Face Type: Radiance +
Skin Type: Natural
Make-up: Eyeshadow/soft teal, Blush/Pink, Lips/Pink
Eye Color: Orange, Light Purple (special color, front facing), Green, and Pink
Hair: Two tones of light blue and mint green.
The set includes: Doll, one piece jumper, hat, boots, underpants, and stand.

Release Date: April 18, 2014
Price: 13,800 JPY

* Junie Moon international online shopping will take reorders from April 10,
2014. Please check our site at that time!