2014.08.06
Neo Blythe "Didee Eureka" will take you Over the Rainbow with her "The Wizard of Oz" inspired look!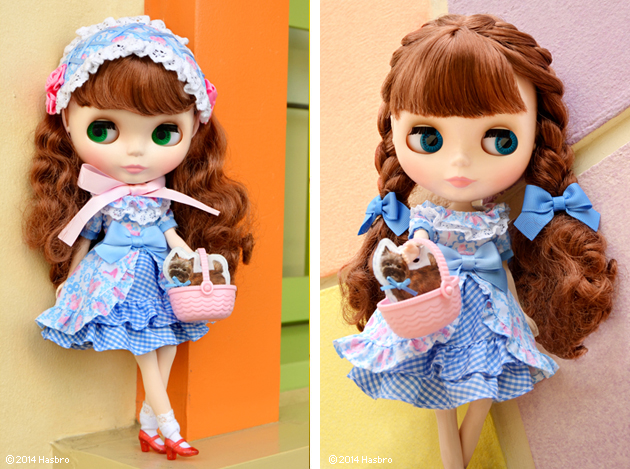 "I have entered a world of magic!
This wonderful land holds so many adventures.
Let's go down the yellow brick road with our puppy friend!"

Didee is in the image of Dorothy from "The Wizard of Oz".
She wears a blue and white gingham dress with red shoes and basket.
She wears a one piece dress printed with Oz motifs from the story.
The abundant ruffles are accentuated by the ruffled skirt.

When she wears her down she has a cute lolita style headdress.
She can also wear her hair in two braids with the baby blue ribbons included.
Take her pink basket and put the fluffy dog printed pillow in the basket.
Put on her red glitters shoes and white socks and you're ready to find the great and powerful OZ!

She has long dark brown hairs with a wavy perm and bangs.
She wears brown eyeshadow with pink lips and cheeks.
She has one set of special brown eye chips facing frontward.
She has cream colored skin in a Radiance + mold.
Face Type: Radiance +
Skin: Cream
Make-up: Brown eyeshadow, pink lip and cheeks.
Eye Color: Pink, blue, brown, and green.
Hair Color: Brown
The set includes: Doll, over dress, skirt, head dress, two hair ribbons, basket, dog printed cushion, shoes, socks, underpants, and stand.

Release Date: August 22, 2014
Price: 14,800 JPY