2014.09.01
Blythe has collaborated with Hatsune Miku!!! This is an announcement for the CWC Exclusive Neo Blythe Hatsune Miku Meets Blythe -Eclectic Super Idol-.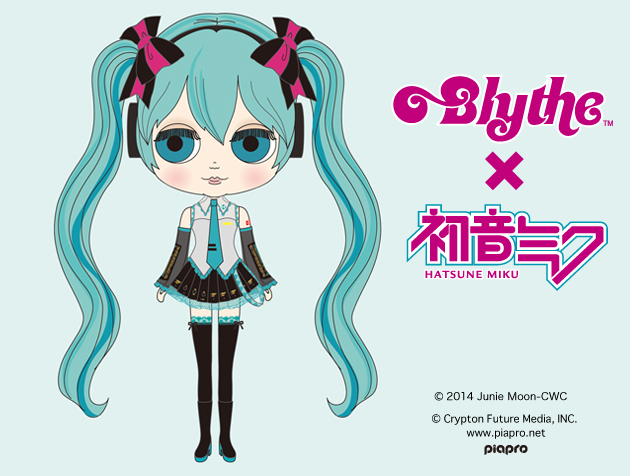 February 2015, Blythe turns into international super star Hatsune Miku!
This collaboration is bound to take you to new heights of excitement!

She's on the internet, on stage, in everyones hearts. She's the star of tonights show!
Her fans dance to her music on the dance floor and on online, the world wide web is her concert hall!
Retaining the iconic look of Hatsune Miku while adding the girlish cute looks of Blythe, this collaboration is the perfect marriage of both worlds.

The bowtied sleeveless shirt, pleated skirt, and arm covers complete the basic silhouette, and the head phones, boots, socks, and beautiful hair ribbon complete the look. There are details that have been arranged from the original in order to accentuate the idol look, from the translucent cloth to the lace and frills on the skirt and the bloomed pleated skirt.

Her hairstyle is a banged twin tail with a record breaking hair length for Blythe.
Her hair is a clever blend of mint blue and light blue in order to recreate Miku's unique hair color.
There is also a third, dark green mesh used inside of her twin tails, making it the first time three colors were used in Blythe's hair.

We made it a goal to create a bright and energetic face, using a Radience Plus in a glossy, translucent tone.
Her make is light and clear to reflect her athletic nature; her cheeks and lips are salmon pink, with a thin brown line in the corners of her mouth.
Her eyeshadow and eyelids are light brown, and her eyelashes are specially made.
Her eyecolors are light blue-green, blue-green, hologrammed light blue, and blue with a white highlight, which were all newly made for this Blythe.

The illustration is a design graphic, and the photo is taken from a prototype.
This is not a representation of the final product.

Set includes:
Doll, no-sleeve shrit, skirt, arm cover, head phone, hair ribbon, socks, boots, shorts, and stand.

Release Date: February 2015
Suggested Retail Price: ¥20,000

* Junie Moon international online shopping will have a lottery for this doll in January of 2015.
Please save the date!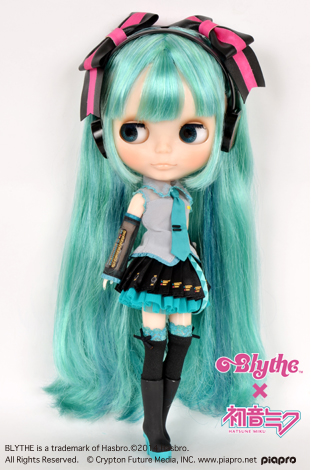 写真は試作品を元に撮影した参考画像です。最終仕様とは異なる場合がございます。