2014.09.18
Neo Blythe "Cadence Majorette" is the new military chic girl!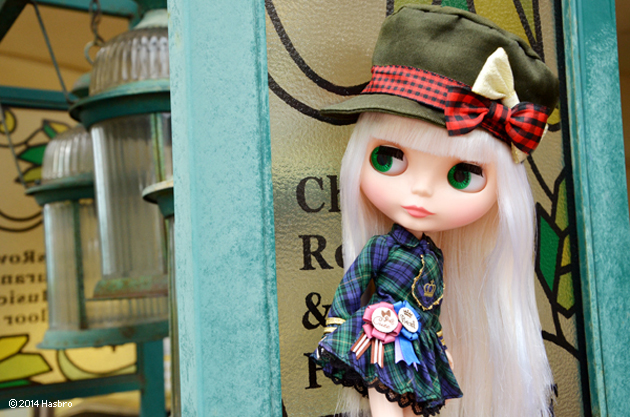 It's time to show off your special baton twirling at the parade!
Wearing your sharp costume you feel sharp and proud. Watch her twirl the baton around and around!

The elegant combination of girly and military style express the lovely style of majorette for Cadence. The drop waist of her uniform is accented with lovely pleats and a sharp collar and cuffs. The deep purple and green check dress show her spirit along with the two accenting ribbons.

She has striped socks and four strap shoes.  Her fun cap really tops off the outfit with a unique military flare.

She has long, white hair with bangs.
She has natural makeup with brown eyeshadow, and pink cheeks and lips.
She has special light brown eye chips facing forward.
She has a Radiance + face in fair color.
Face Type: Radiance +
Skin: Fair
Makeup: Brown eyeshadow, pink lip and blush.
Eye Color: Brown, blue, orange and green.
Hair Color: Off White
The Set Includes: Doll, dress, hat, shoes, socks, shorts, and stand.

Release Date: October 17, 2014
Price: 13,800 JPY

* Junie Moon international online shopping will take preorders for this doll from October 3rd.