2014.10.24
Junie Moon's 10th Anniversary Doll has arrived!This is an announcement for the illustration of CWC Exclusive Neo Blythe "Junie Moonie Cutie".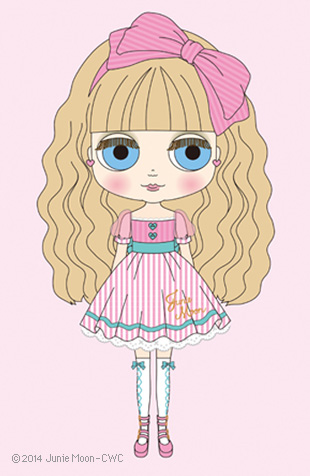 This December is the 10th Anniversary of the opening of the Junie Moon store!
In order to express our thanks to the many people from around the world who came to our store, we will be releasing a Junie Moon exclusive Blythe!
Please look forward to seeing a truly Junie Moon style Blythe doll!

Sugary sweet and fluffy like cream, Junie Moonie is precious and important!
Kiss me gently, hug me close, and dress me up!
The first exclusive ever to come out of Junie Moon, "Junie Moonie Cutie" takes on the name and the cute look of the store.
Junie Moonie's favorite color is pink and mint green, and her favorite things are hearts and ribbons.
We packed in as much of our favorite things in her design as we could!
A pink and white striped dress with see-through puff sleeves, and her skirt has the Junie Moon logo embroidered in gold.
Her signature mint green ribbon and heart shaped buttons as well as her big ribboned headband are prominent pieces in her ensemble.
Her earrings are pink hearts, and her ribboned hi-socks and four strapped shoes complete her look.
Her under garments are a mint green and white striped drawers.
Her reddish blonde hairstyle is long and tightly permed, with cute bangs.
Her face color is clear and pale, her eye shadow is green, and her cheek and lip are pink.
Her eye chips are light blue, light brown, pink (with hearts), mint green, which are all special colors. her face type is Radiance+.
She comes with translucent skin.
Her pull ring is a charm that has the Blythe logo on one side and the Junie Moon logo on the other.
She pairs perfectly with the shopping bags and foldable miniatures that come in the box! Her stand is also mint green.
* Please note design image may differ from the final product.

Release Date: December 2014
Price: ¥14,500