2015.01.26
ouioui Aya Fujimoto x JM Dollywear Dress Sets coming sooon!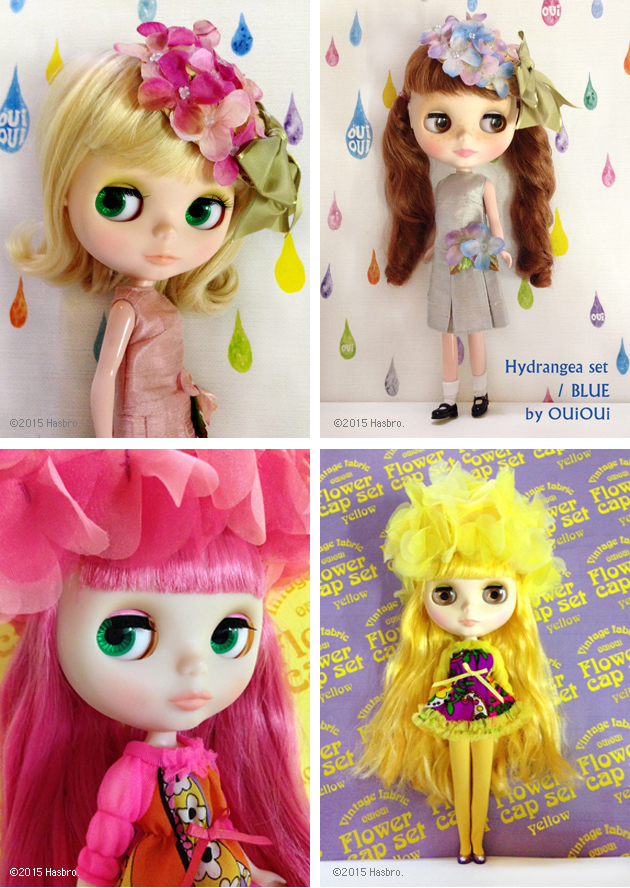 With the classic "Hydrangea set" and the pop "Vintage fabric Flower cap set", these hand made dress sets are sure to impress!
The hydrangea head dress and cute organdy cap are both possible with the handy work of hat maker ouioui!

A word from the creator:
"Hydrangea set"
This head dress takes inspiration from the hydrangea, which is one of my favorite flowers. 
The box pleats dress is made with silk shantung.
The base of the head dress is natural raffia blade.
Her ribbon uses high quality taffeta.
The design is very simple, but the materials are all very high quality.
It's a very girly, elegant, classic style.

"Vintage fabric Flower cap set"
I used a 60's-70's vintage fabric i bought in America. 
The gradation on the organdy petals on the flower cap and the vivid dress was informed by 70's fashion in the U.S., which is the decade Blythe was born.
Each dress is different based off of the cut of the cloth, which is a fun note to think about when enjoying this one-off dress.

-
"Hydrangea set"
Blue, Pink
Price: ¥6,890+taxes
Set includes: Dress, head dress, socks

"Vintage fabric Flower cap set"
Pink, Yellow
Price: ¥6,890+taxes
Set includes: Dress, flower cap, tights

Release Date: March 10th (fri)
*There will be a pre-sale during the ouioui Fujimoto Aya gallery show at Daikanyama Junie Moon


"ouioui" Aya Fujimoto Bio:
After her career as a designer at a major hat brand, she began working as a freelance designer for hats for concerts and play costumes as well as fashion shows.
Her identity as a doll clothes designer is OUIOUI.