2015.03.03
The Middie with fairy wings is here! Here's the illustration for Middie Blythe "Pixie Peaceful"!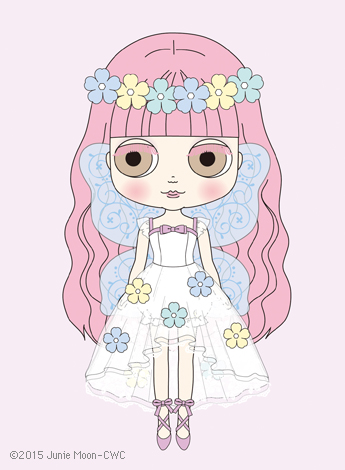 I dedicate these fairy wings to those who love peace and have a gentle and pure heart.
If you nurture it well, you would surely grow up to be the most outstandingly pretty fairy of them all!

Pixie Peaceful is a winged fairy, bringing joy and happiness to all who find her!
She wears a dress decorated with a handful of pastel colored flowers.
The skirt is short in the front and long in the back, with flowery lace and chiffon layered around it.
The pale blue wings are detachable.
Her other accessories are the flower crown, lace shoes, and her drawers.

Her hairstyle is a permed long with bangs, and her hair color is pink.
Her eyeshadow and eye lids are purple, and her cheeks and lip are pink.
Her eyelashes are a special pink color, giving her a cute and gentle look.
Her face color is cream.

Release Date: April 2015
Price: ¥10,800