2015.05.13
Have fun while taking care of your nails with Blythe! Here comes PREGEL x BLYTHE Nail Files and Nail Stickers!
As Blythe as the image character of gel nail brand PREGEL, there will be a series of nail care and decoration goods with her adorable image on them!

Its very important to keep your nails pristine but it also takes as much work.
With PREGEL brand nail care and decoration goods, its easy to keep your nails looking good while also carrying around a cute image of Blythe!
Every beautiful nail is an extension of your image, so it's important to keep yourself feeling good while looking good.

Blythe's cute and cool image is on PREGEL's Nail Files and Nail Seals. The
Nail Seals are also decorated with flower and heart ribbon motifs.
Have fun while taking care and decorating your nails with Blythe nail goods!

Blythe Nail Seal
Simply apply these on your nails and have fun decorating. Place the seal on
your nail, file away the excess, and apply a top coat to finish.

1 Type
Manufacturer: Preanfa Co., Ltd.
Made in Japan

Price: ¥600
Release Date: May 25th, 2015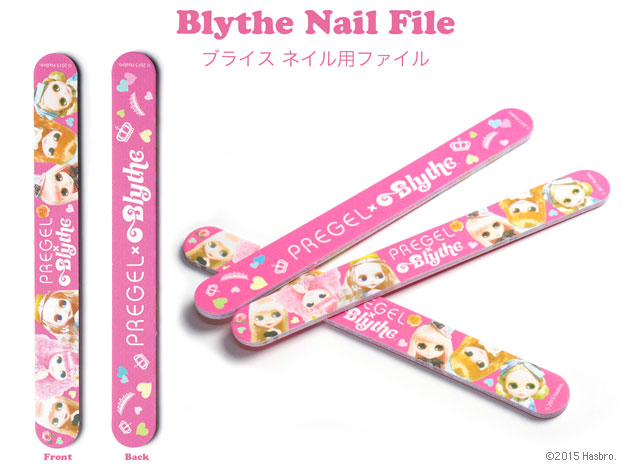 Blythe Nail File
A staple of nail care, this is a thin, double sided board type file.
Use this to soften the edges of a recently cut or chipped nail, or smoothing bumps on the surface.
This is also useful for fixing the application for the Blythe
Seal, manicure, or any nail extension.

Price: ¥350
Release Date: May 25th, 2015

This will be sold in stores country wide, along with every CWC affiliated store!