2015.05.15
Draped in rococo dresses, the most elegant of ladies have arrived! Here are the illustrations for CWC Exclusive 14th Anniversary Neo Blythe Dauphine Dream!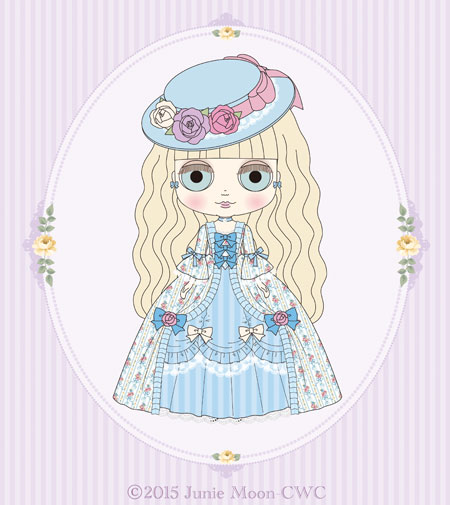 This year's Anniversary Doll is dressed in the most current rococo fashions of the late 18th century!
The CWC Exclusive 14th Anniversary Neo Blythe's name is Dauphine Dream.
She loves to take walks through beautiful English gardens and have tea with her friends.

Story:
A simple life is the best for me. I love to wear clothes with lots of frills and ribbons, my hobbies are having black tea with an assortment of colorful
macaroons, taking naps and having lengthy conversations.
I recently took up gardening with my friends so that I can learn more about English gardening, especially with lakes and small hills!
And as I garden I will wear muslin and cotton dresses with a straw hat on my head, living in nature in the country side!

Dauphine Dream's fashion starts with a refreshing base of blue with pink and white accents.
Her dress uses a rose and ribbon printed cloth with stripes with plenty of lace and frills, ribbons and rose accents to create a most extravagant accoutrement.

Her over skirt opens from the center, and two different horizontal gathers are put into the underskirt, with an added tulle pannier to increase the volume.
Her skirt flows outward at the back, giving her an elegant silhouette.
Her hat is made to have a lowered crown, with rose corsages, lace and ribbon accents giving it presence.
Her accessories are a pearl and ribbon choker, ribbon earrings, and rose printed pumps.

Her blonde hair is permed and long, with her bangs cut just above her eyes.
Her face color is a translucent cream, and her face type is radiance plus.
She wears brown eye shadow along with her brown eye lids, and her eye lashes are a unique light brown, giving her a gentle look.
Her cheeks are pink, and her lips are a soft pink gradient with brown accents around the corners of her mouth.
Her eye colors are light blue, blue, light orange, and light pink, all of them especially created for this Anniversary Doll.
She also wears pink manicure!
Her pull ring and short stand are blue.

*This is a design illustration. Final product may differ from this image.

Scheduled Release Date: July 2015
Price: ¥24,900