2015.10.16
Tea parties in Wonderland are always bizarre and exciting! Mary Ann final specifications!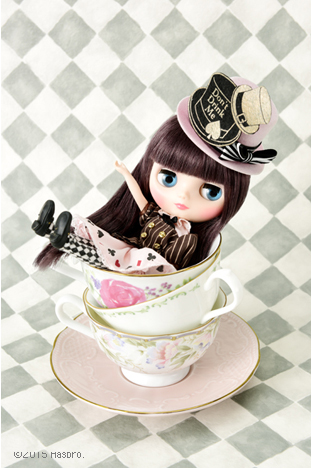 I didn't think that I would shrink to a Middie size when I drank that potion,
but now that I'm small, I can explore and have fun!

Mary Ann's Fashion is based off of a playing card and hat motif, the quintessential Wonderland Style!
Definitely a good look to take to a unique
tea party!

Her jacket like blouse is chocolate brown with pink pin stripes, four gold buttons, and a ribbon on her collar.
Her skirt is a gathered strawberry pink miniskirt.
The skirt is decorated with hearts, spades, diamonds, and clovers, along with a lace fringe.
Her drawers are made long, so that it will peek out cutely under the skirt.

Her hat has "Don't Drink Me" written on it, presumably the message that was on the bottle that she drank out of.
Her socks are printed with a monotone diamond pattern, and the toes of her black shoes are gilded in gold. 

Her hair is straight and long with bangs, and her hair color is a reddish dark brown.
Her eye shadow is light purple, and her cheeks and lips are a healthy pink.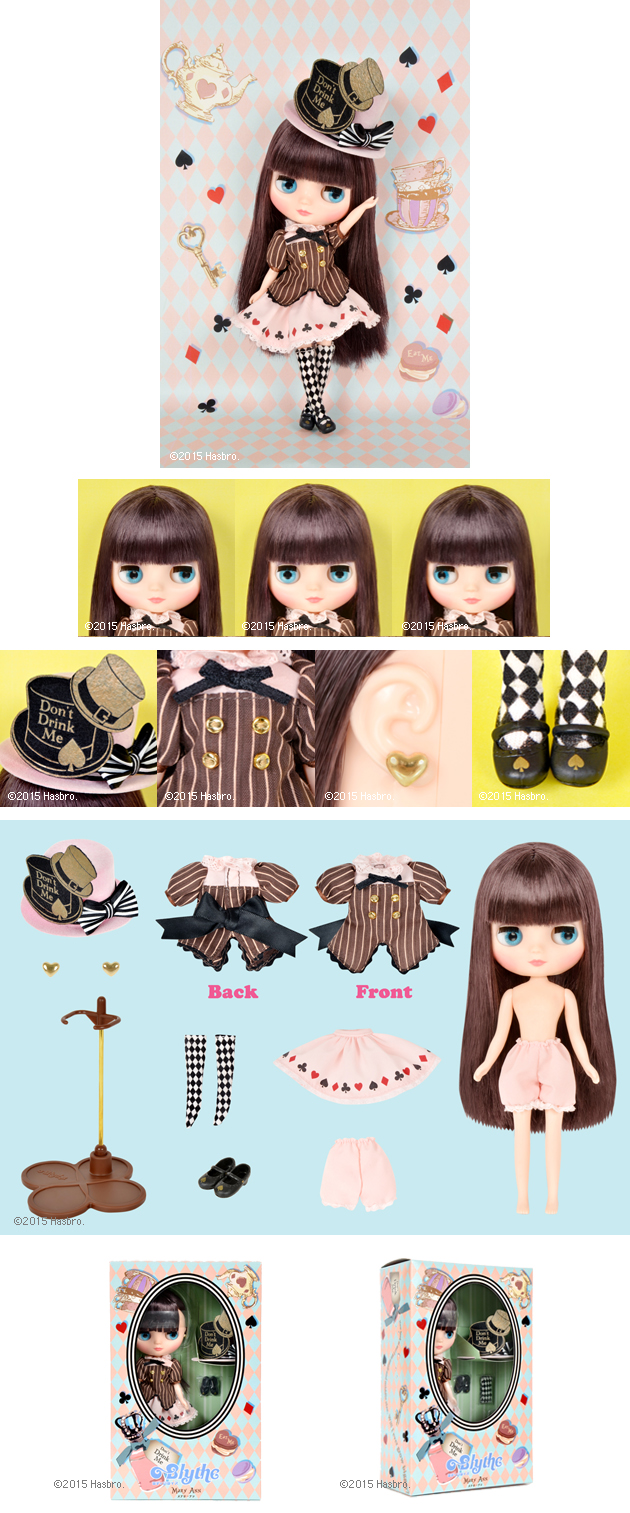 Face type: Middie Blythe
Skin type: Cream
Make up: Eyeshadow- light purple / Lips, cheeks- pink
Eye color: Light blue
Hair color: Reddish dark brown
Manicure: n/a
Ear rings: heart shaped
Eye lids: default
Set: Doll, blouse, skirt, hat, ear rings, socks, shoes, shorts, stand.

Available: Nov. 13th, 2015 (Fri)
Price: ¥13,400
Junie Moon Online Shop International https://www.juniemoonshop.com/