2015.12.14
I love French fashion! Neo Blythe Cherie Babette with her adorable bear kigurumi!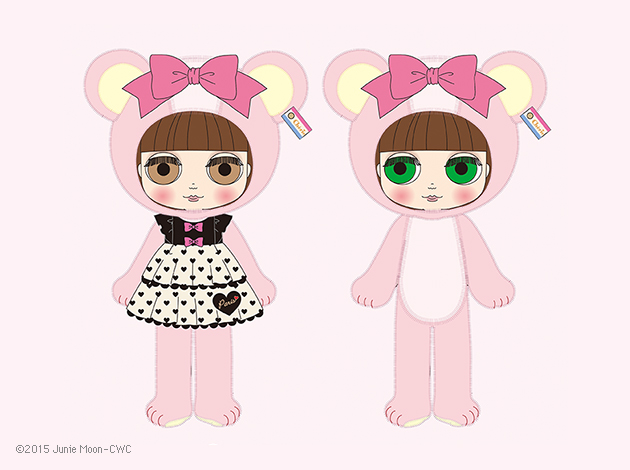 I love to take walks at night, down near the Eiffel Tower and the Trocadero Gardens. Maybe I'll get some gifts for my family at Montmartre! But where are those lovely berets? Without one I can't complete my french fashion look!
Blythe can wear a variety of different fashions and look good, but the kigurumis really bring out her adorableness!
We matched a fluffy bear kigurumi with a jumper skirt.
The tummy is slightly fluffed out, and the fur is elongated in parts to create the round silhouette a cute teddy bear might have.
The monotone jumper skirt is decorated with hearts and frills that makes it chic and sweet at the same time.
It also has the words "Paris" embroidered on the front and a tricolor tag that shows her interest in French fashion.
Her face type is fairest, her face color is a translucent cream which has never been done before on this face type.
Her hair color is brown, cut in a bobbed look. Her eye shadow is brown, her cheeks are a healthy pink, and her lips are pink with a puffy mask.
She has one special brown eye color.
The illustration is a concept and does not represent the final product.
Release Date: February 2016
Price: ¥18,500