2016.03.01
I can't wait for the summer! New Blythe short-sleeve T shirts are coming!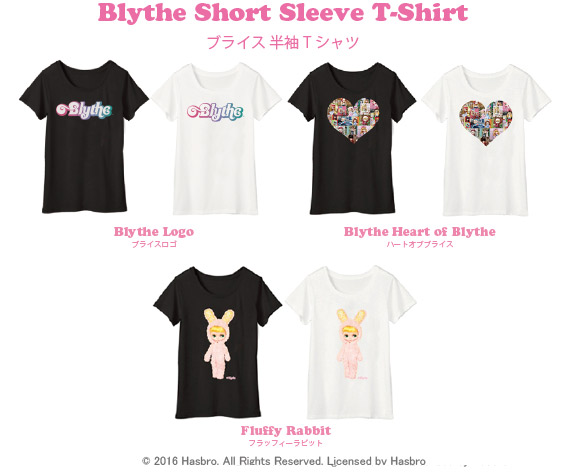 Make this summer a fun one with the new Blythe T-shirts coming soon!

The cut is simple allowing a variety of styles to be printed on top, just like a canvas!
Blythe is presented in cute and artistic ways, making casual and cool looks easy with each T.
This is a definite must buy item for this summer!

The body fits well for any length and shoulder width, keeping a simple silhouette.

The three designs are Blythe Logo, a collaged compilation of the most popular Blythe's in Heart of Blythe, and the adorable kigurumi Blythe Fluffy Rabbit.

Blythe Short Sleeve T-Shirt
6 Types/ Blythe Logo, Heart of Blythe, Fluffy Rabbit
3 Designs x 2 body colors (white, black)
Size: Lady's free size (length 64cm, width 48cm)
Material: 50% cotton, 50% polyester
Made in China, Printed in Japan

Releases April 9th, 2016
Price: ¥5,300 (without tax)
"Framing Alice" t-shirts are not available at this time.  Thank you for your understanding.