2016.04.14
Nail care and fashion items series 2! This time its Dark Rabbit themed Nail Files and Nail Stickers!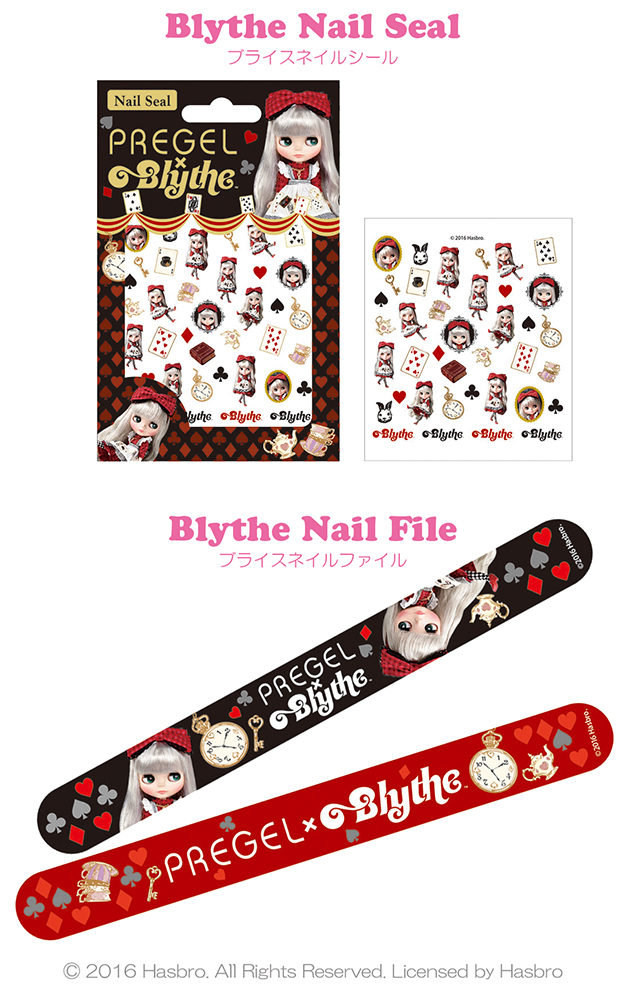 As the image character for nail fashion brand PREGEL, Blythe will be gracing nail care and decoration goods such as files and stickers! The second series of nail goods will be featuring Neo Blythe Dark Rabbit Hole! Blythe and a variety of Wonderland-esque motifs as well as the Blythe logo decorate the nail file and stickers.

The Nail Stickers are an item used to decorate your nails, just by sticking them on. Give your nails a stylish look while having fun customizing your decorations!

The Nail File is a must for any nail care enthusiast. The thing and long specs of this file make softening edges and correcting bumps easy, as well as making sticker and gel application much easier.

These nail care goods will make looking good easy and fun!

Blythe Nail Stickers
One type: Dark Rabbit Hole
Size (sticker sheet): H70 x W60mm
Price: ¥600+taxes

Blythe Nail File
One type: Dark Rabbit Hole
Size: H20 x W180mm
Price: ¥350+taxes

Release Date: May 24th, 2016 (Tue)   released by Preanfa Co., Ltd.
Sold in CWC affiliated stores, Blythe goods stores at a later date.