2016.04.27
15th Anniversary CWC Exclusive Blythe Allegra Champagne illustrations are here!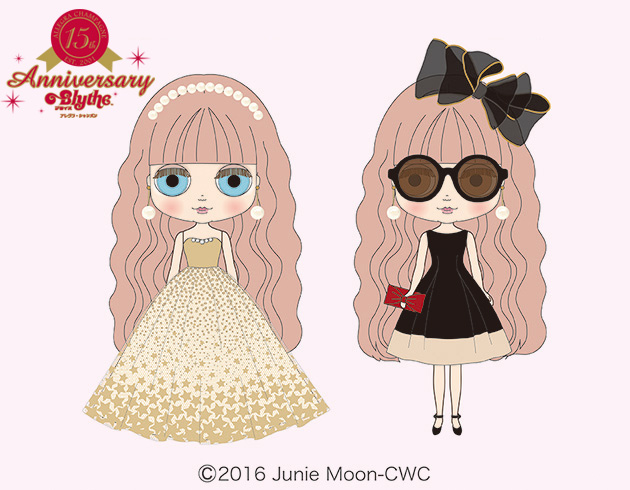 The day of my party to commemorate my careers 15th anniversary,
I decided to send 100 cases of champagne to all of my friends and family who have supported me!
Let's all gather around and open them together!
It has been 15 years since the Neo Blythe made it's first debut in Japan.
This years anniversary Blythe is Allegra Champagne, themed after the sparkling gold glow that champagne emanates.
She has two outfits: a long golden formal dress sprinkled with stars, and a darker semi-formal dress perfect for a night time outing.
Both dresses are immensely photogenic, and has as much charisma as a Hollywood star!
Her long dress is perfect for formal parties, with its golden faux leather bare top glittering with rhinestones, her shantung skirt is decorated with printed golden glittering stars, layered below with tulle and a champagne colored long train.
Complete with a pair of giant pearl ear rings, a pearl head dress, and golden pumps!
Her semi-formal style is elegant and cool.
The coloring is a chic black and gold, with a touch of red.
The dress, made from a beautiful satin fabric, is open on the back to show off the camisole lace.
Her chiffon ribbon accessory is bloomed out for maximum volume, and her circle sunglasses, enamel red clutch, and strap pumps all come together to create a combination of elegant and edgy!
Her face type is Radiance+, and her face color is a translucent cream color.
The hair color is a newly created pink brown hair styled with a perm and cut bangs. Her makeup is put together with two tones, brown and pink.
Her eye lids are light brown, with a pearl white underline just below her eyes!
Her lips are given a plump mask, using two different tones of pink to create volume.
Her eyes are light purple, light green, light blue, and light brown, all special colors.
This illustration is a proof of concept and does not represent the final product.
Release Date: August 2016
Price: ¥34,900
We will also have photos taken in LA of Allegra Champagne by Blythe's creative producer Junko Wong until the release on August!