2016.09.07
Infernally Dressed but Heavenly Hearted, CWC Exclusive Devi Delacour is here!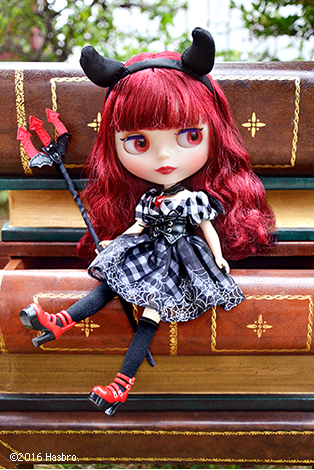 t's hard to take your eyes off of cute and devilish Devi Delacour.
Don't let her looks fool you! She may be a demon but she has a good heart.
Devi Delacour has all the makings of a classic devil, from the horns on her head to the bat wings and tail, even the trident fork is part of her look.
Her checkered dress and organdy back skirt with the spider web detail is her trade mark.
A lot of detail is attached to her back, from the red heart shaped tail, and removable bat wings.
Her belt is made to look like a corset, and her collar is modeled after bat wings.
Her accessories are a horned hair dress and a pair of silver heart ear rings, along with her fork.
She also wears black knee high socks and red strap shoes.

Her hair is a distinct dark red, permed and long. Her face type is Radiance+, and her face color is a translucent cream.
Her make up is done to give her a moody look.
The dark brown eye liner and dark blue eye lashes are special, giving more oomph to her eyes.
Her eyeshadow is dark brown, cheeks are salmon pink, and lips a darker rose pink.
Her eyes are light blue, pink, yellow, and gray, all special colors!

Her pull ring and stand (which is 17.5cm tall) are black with silver details.

Facetype: Radiance+
Skin type: Translucent Cream
Make up: Eyeshadow: Dark brown, Lips: Salmon pink, Cheeks: Rose pink, Eyeliner: Darkbrown
Eye colors: light blue (front), pink (right), yellow (front), gray (left) *All special colors
Hair color: Dark red *New color
Ear rings: Silver hearts
Manicure: n/a
Eye lids: light brown
Eye lashes: dark blue *New color
Set includes: Doll, dress, lace-up belt, attachable collar, wings, knee high socks, head dress, Ear rings, boots, trident fork, shorts, stand

Available: Oct. 22nd (Sat)
Price: ¥26,200 + tax

*Product specifications are subject to change.