2016.09.14
Blythe 15th Anniversary Exhibition "Sweet Celebration" is opening at the Yokohama Doll Museum on December 3rd, 2016!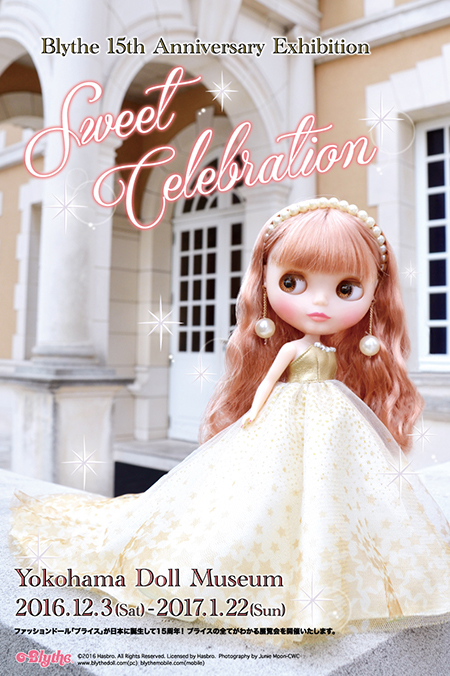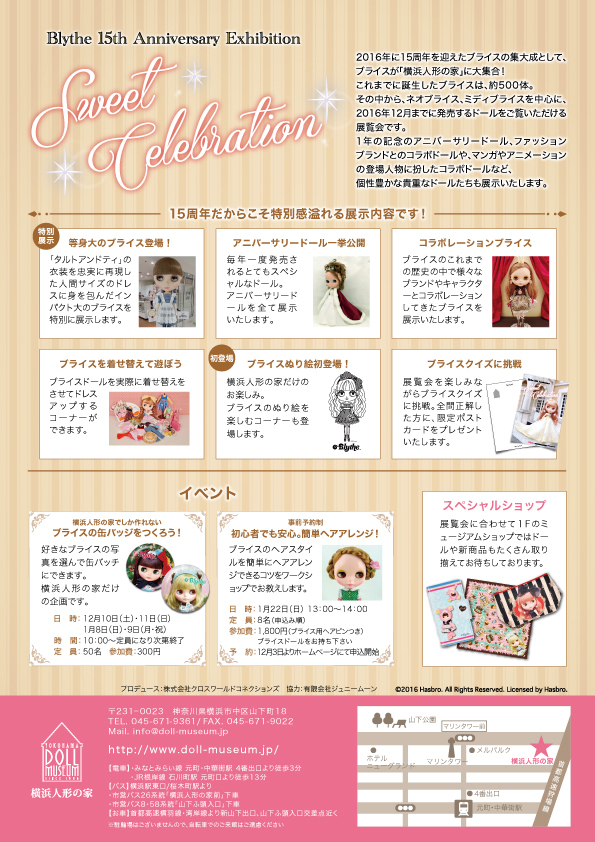 See the entirety of the Blythe collection to celebrate 15 years of Blythe this 2016!
Around 500 Blythes have been made to this day. From Neos, Middies, and everything in between (even some dolls yet to be released), they will all be exhibited at the Yokohama Doll Museum!
Come to see each years respective Anniversary Doll, the myriad of wonderful collaborations with fashion designers all over the world, and the manga and animation themed collar dolls as well!
There will be 15 years worth of Neo and Middie Blythes, and 300 selected Petit Blythes.
There will be a dress up station at the venue where visitors will be able to dress up their own Blythes, along with a corner for creating artwork and taking a Blythe Quiz! Create can badges and take a hair design work shop!
*The Hair Arrange workshop is ¥1,800 per entry (includes a Blythe hair pin) *Please bring your own Blythe doll.
Reservations begin December 3rd (Sat) from the Yokohama Doll Museum homepage!
At the shop, visitors will find Blythe Dolls and goods for all ages, such as stationary goods and smartphone cases, pouches and bags, tableware, snacks, apparel, and calendars and schedule books!
We are waiting for you to visit!
Blythe 15th Anniversary Exhibition
"Sweet Celebration" Yokohama Doll Museum
Open December 3rd, 2016 (Sat) ~ January 22nd, 2017 (Sun)
Venue: Yokohama Doll Museum 3rd Floor Exhibition Room
9:30 ~ 17:00 (16:30 Final day)
Closed every Monday (Closed the next weekday on holidays. *Open on January 3rd. No transfer vacation.)
Closed on December 29th to January 1st.
Admission fee: Adults (15+) |300, Children ¥150
*Museum entrance fee (Adults ¥400/Children ¥200) required
http://www.doll-museum.jp/