2016.10.14
I'm going to dress up really nice for my friends 15th anniversary party! Habro Exclusive Neo Blythe Stella Serendipitous is here!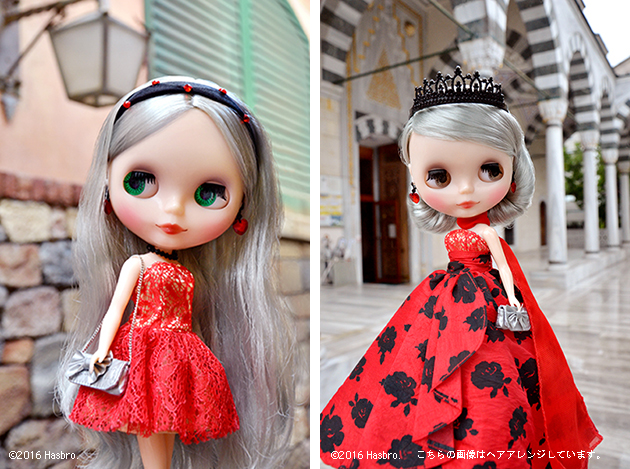 Stella is Allegra Champagnes best friend, they're always seen together.
For the formal, she wears red long dress with a black rose detail.
The top is a gold and red lace bustier, and her skirt is glossy red with more rose details and a two layered train flowing down the back.
Her accessories are also selected to compliment the gorgeous red dress.
Her tiara, cut bead choker, chic black heels, and heart shaped ear rings are perfect to stand out in a party.
The red shawl and silver detailed clutch bag completes the look. Her dress is able to be taken apart into two ways.
One without an over-skirt and one with.
Stella Serendipitous' semi formal look consists of a gold satin and red laced low waist dress, perfect for the gallery show or at a concert!
The red rhinestone accented tiara and shawl can be arranged in a variety of styles!
Her face type is Radiance+, and her face color is cream.
Her custom silver hair is parted down the center.
Her eye shadow is purple, her lips around the edges are lined, surrounding a gentle rose pink color.
The custom eyeliner around her eyes is great for changing her expression.

Face type: Radiance+
Skin Type: Translucent Cream (light skin)
Make up: purple eyeshadow, rose pink lips, pink cheeks
Eye color: Light purple (front, special), Light gray (right, special), Light blue (front, special), Green (left)
Eye lids: Purple (special color)
Eyelashes: black (special color)
Hair color: silver gray
Earrings: heart shaped hook earrings Manicure: n/a
Eyelids: default Eyelashes: default
Set includes: doll, dress, over skirt, shorts, tiara, head band, earrings, choker, shawl, bag, shoes, stand(short stand for dress. height11.5cm)
Release: November 18th 2016 (fri)
Retail price: ¥25,000 + tax
*This is a Hasbro Exclusive doll.
This doll will be released in regions all over Asia on November 18th (Fri).
Junie Moon affiliated stores (including the online store) will have exclusive retail permission and will be released on a different date than in other Asiatic countries.
*Because this is a Hasbro Exclusive import product, Junie Moon affiliated stores will sell this doll at ¥25,500 + tax.
Be advised that this differs from the release price.
Junie Moon Online Shop International https://www.juniemoonshop.com/