2016.10.17
It's an Unidentified Flying Blythe! Design illustrations for Neo Blythe UFO A GO GO are here!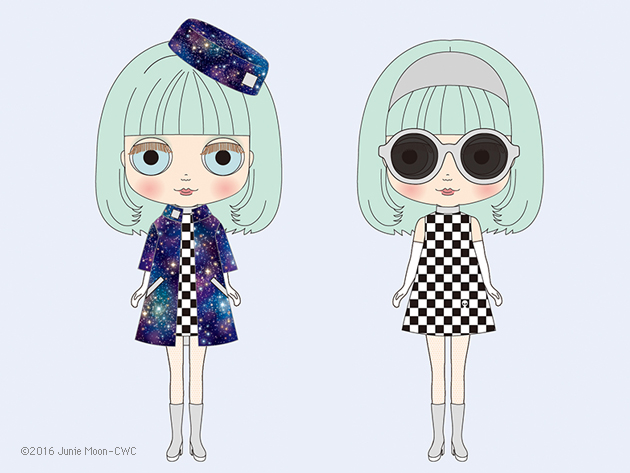 UFO A GO GO is a Blythe that loves to dance! Music, light shows, and the open skies are her favorite things!
UFO A GO GO wears a checkered dress with a coat and toque with a beautiful galaxy printed all over it.
The checkered patterning hiding under the stardust is quite a unique look!
Her boots, the frame of her glasses, and her hairband are a silver accent color, giving her a cool vibe.

Her facetype is Radiance+, and her face color is cream.
Her hair color is a greenish blue cut into a bob.
Her make up consists of a blue green eye shadow and salmon pink cheeks and lips.
Her eye lashes are brown.
Her eyes have a special light blue and light gray color.
*The illustration is a design and does not represent the final product.

Release Date: December 2016
Retail price: ¥17,800