2016.10.19
New Flat Pouch Designs for Blythe!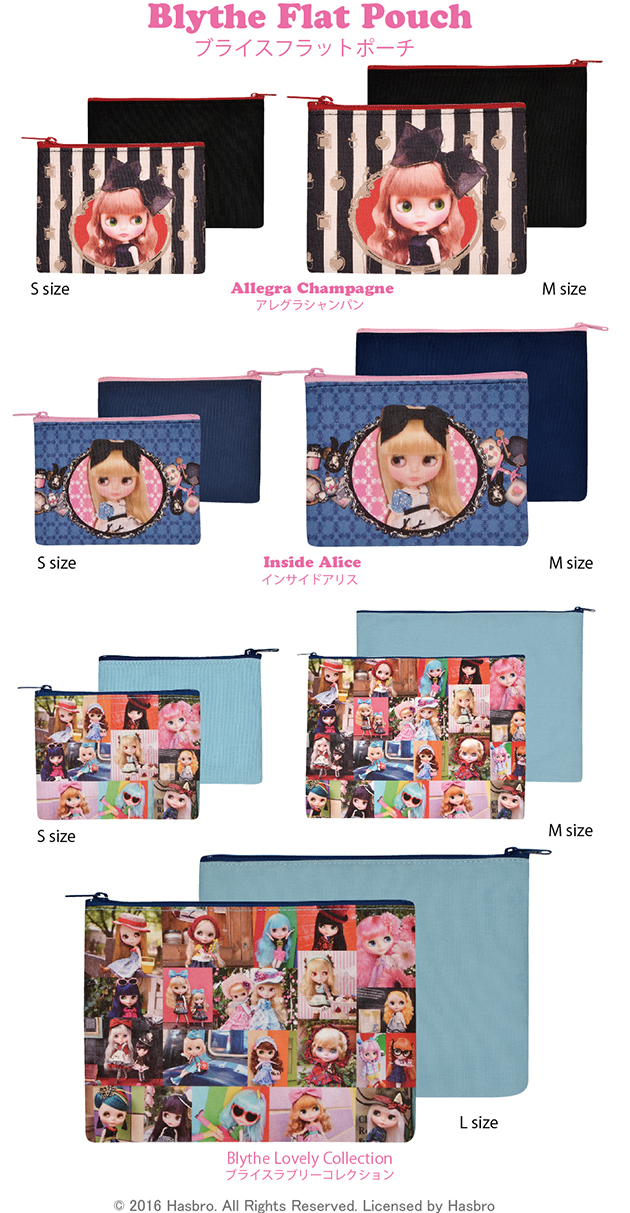 These simple and easy to use flat pouches will be getting new designs!
These pouches remain slim and portable even with your bulkier accessories stored in them.
There are three sizes for every occasion and item. From make up to cellphone accessories, any tool for every day use can be carried with ease.
The sophisticated Allegra Champaign, the whimsical Inside Alice, and the cute assortment of Blythes, Blythe Lovely Collection, comes in S and M sizes.
Blythe Lovely Collection also comes in the L size.
Blythe S Flat Pouch
3 Types: Allegra Champaign, Inside Alice, Blythe Lovely Collection
Size: 105mm x 140mm
Material: 100% cotton, with lining
Made in Japan
Available October 22nd (Sat) at all CWC affiliated stores *Available at Blythe goods stores at a later date.
Price: ¥1000 + tax
Blythe M Flat Pouch
3 Types: Allegra Champaign, Inside Alice, Blythe Lovely Collection
Size: 150mm x 210mm
Material: 100% cotton, with lining
Made in Japan
Available October 22nd (Sat) at all CWC affiliated stores *Available at Blythe goods stores at a later date.
Price: ¥1600 + tax
Blythe L Flat Pouch
3 Types: Blythe Lovely Collection
Size: 235mm x 325mm
Material: 100% cotton, with lining
Made in Japan
Available October 22nd (Sat) at all CWC affiliated stores *Available at Blythe goods stores at a later date.
Price: ¥2700 + tax