2017.01.11
Come to Junie Moon for Anna Sui x Blythe Limited Edition Collaboration goods!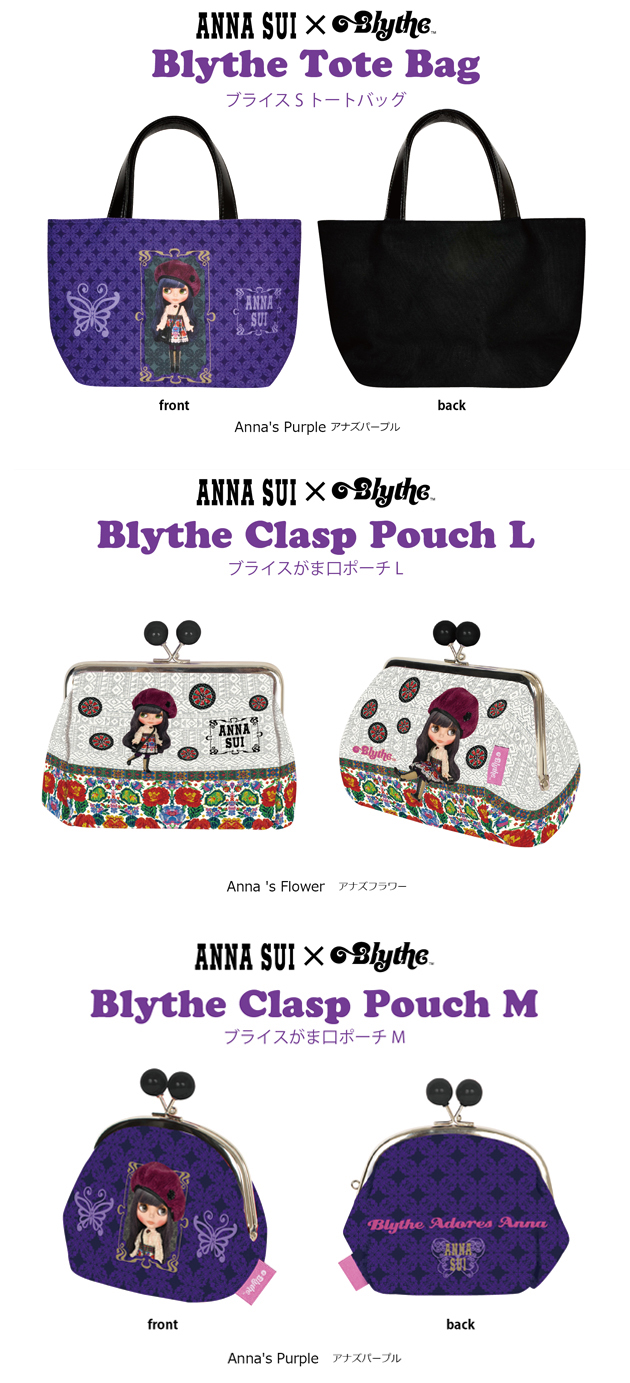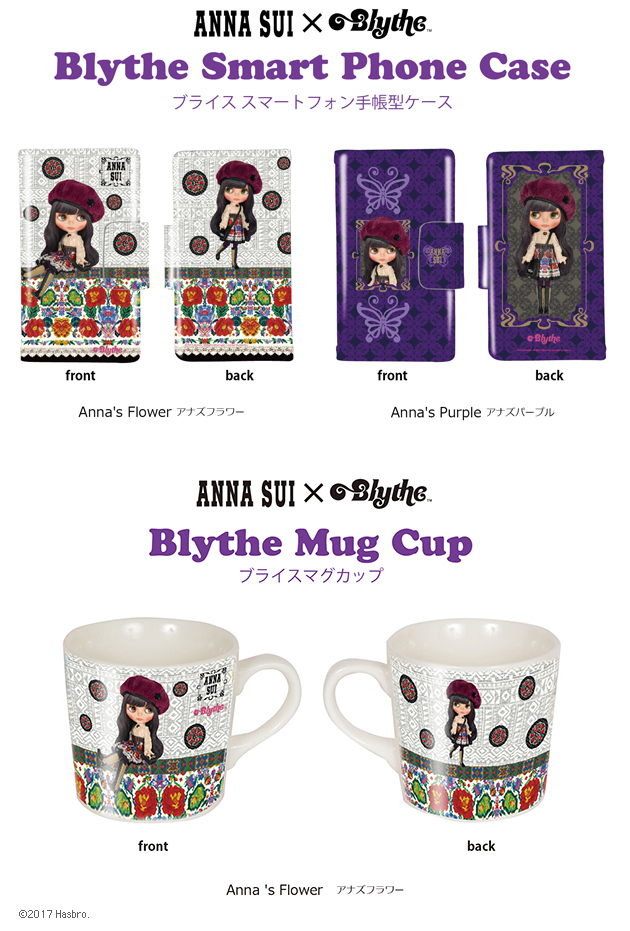 I love Anna Sui!
I love Blythe!
I love fashion and everything nice!
This years first special doll Blythe Adores Anna Sui will be the model for a series of adorable limited edition goods.
For "Anna's Purple" the design has a base of Anna Sui's iconic purple, with Blythe Adores Anna Sui coolly looking on.
In "Anna's Flower," details of lace, flower textiles, and a cutely posing Blythe graces the front of the design.
The collaboration items are a S sized tote bag, a smart phone wallet case that comes in S, M, and L sizes that are usable on over 300 types of phones, a cute clasp pouch thats perfect for storing coins in, and a mug cup.
Blythe S Tote Bag
Anna's Purple
Size:H19 × W31 × D10cm
Material: 100% Cotton
Specs: Leather handles, inner pocket
Made in Japan
Price: ¥3,400 + tax
Blythe Clasp Pouch L
Anna's Flower
Size:H11 × W16 × D9cm
Material: 100% Cotton
Made in Japan
Price: ¥3,000 + tax
Blythe Clasp Pouch M
Anna's Purple
Size:H12 ×W12 ×D6cm
Material: 100% Cotton
Made in Japan
Price: ¥2,400 + tax
Blythe Smart Phone Case
Anna's Purple, Anna's Flower
Size: S/H14.2 × W7.7cm、M/H15.1 × W8.6cm、L/H15.9× W9.5cm
Size Limit for Phones: S/H13.7 × W6.7× D1.5cm、M/H14.6 × W7.6 × D1.5cm、L/H15.4× W8.5 × D1.5cm
Material: Synthetic leather, polycarbonate, comes with strap hole.
Specs: The attachment area for smart phones is a sticker that attaches to the back of the phone.
To use the phone camera, slide the smartphone upward.
If the size of the smartphone fits the capacity of the case, any phone can be used.
Made in Japan
Price: ¥4,200 + tax
Blythe Mug Cup
Anna's Flower
Size: C8.3 × H8.4cm
Material: Ceramic
Specs: One per box
Made in Japan
Price: ¥2,200 + tax