2017.01.11
The much anticipated second volume to the Blythe Collection Guidebook series, the definitive collectors edition of the Blythe Collection Guidebook Legacy Continues coming soon!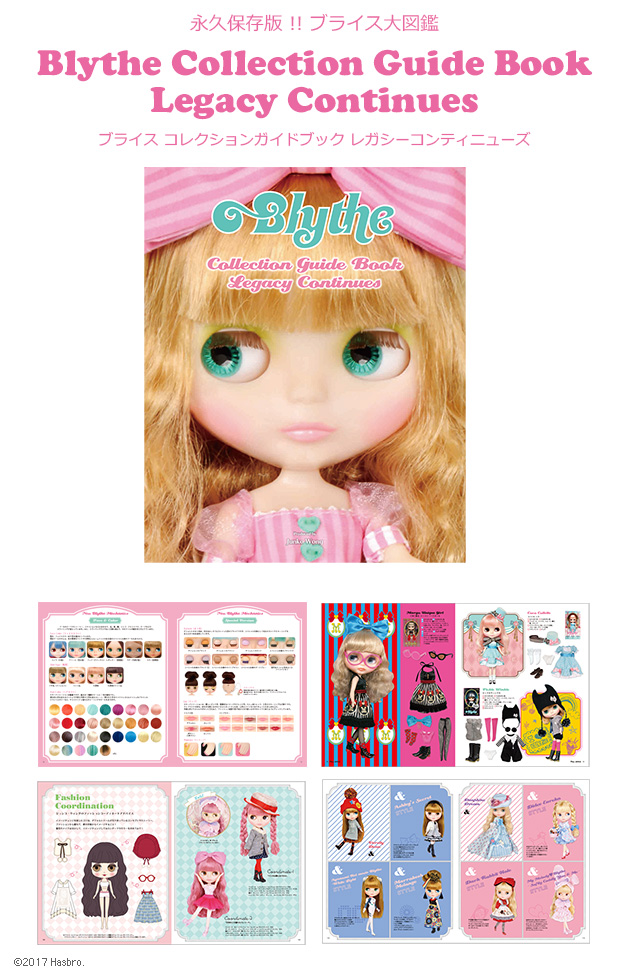 This book catalogs all of the Blythe's made between February 2012 and December 2016.
This is the definitive bible for all things modern Blythe, perfect for the fashion doll collector of any walk of life!
The data pages have release date, price, packaging, accessories, eye color, face type, applicable special specifications, and any other detail you'd want is listed clearly in this book!
Also included are stories from creative director Junko Wong about the making and concepts of the dolls in the episodes page, giving you a glimpse of what goes on behind the curtain and a deeper look at the stories of the Blythes. Besides listing every Blythe in the span of 5 years, there's also dress up, hair arrangement, and make up columns along with photo shoots and tips and tricks.
A new index section will also make looking up Blythes much easier!
This must have book for hardcore fans will tell you everything you need to know, all in one place!
Blythe Collection Book Legacy Continues
Size: H257 x W210mm (AB sized) Soft cover paperback, 168 pages (full color)
Price: ¥3,000 + tax
Publishing office: CWC BOOKS Co., Ltd., Cross World Connections, Junko Wong
Publisher: Graphics Sha Co., Ltd.
Issued: February 2017
ISBN978-4-7661-3010-2
Main Content
-Blythe feature explanation
-Blythe spec data (Neo 61 types, Middie 24 types, Petit 3 types)
-Doll making episodes
-Design illustration line up
-Image photos
-List of misc. goods
-History
-Term dictionary
-Index