2017.03.15
Super popular lolita brand ALICE and the PIRATES and Junie Moon Dolly Wear collaboration dress set! Sugar plum Fairy Queen release!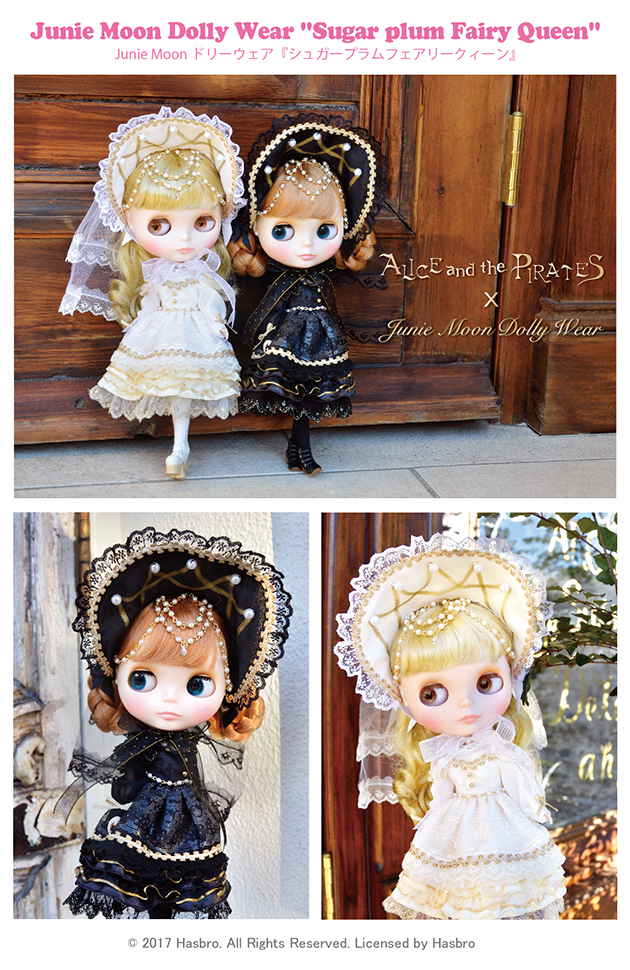 This dress set is inspired by the Queen of Confectioneries, the Sugar Plum Faerie from the classic ballet story The Nutcracker!
As Clara finds her way to the Land of Sweets, the airy snowfall fills her path with a glistening white...
She transforms into the Queen of the land, with organdy as light as cotton candy, and a lace print as soft as icing, and her tutu layered as if a millefeuille was made to be worn by a ballerina.
The cherry on top is her bonnet, as magnificent as a royal tiara, fit for the Queen of Sweets.

A miraculous tale that occurred once upon a time...
We recreated a very popular Alice and the Pirates dress into a doll dress set.
The very simple white and black coloring is offset by the great amount of detail put into the dress.
The high quality materials such as the ribbons and lace add grace and volume to the set!

The bonnet has a veil and a pearl chain, so it can be added to a wedding dress look!

Junie Moon Dolly Wear
Sugar plum Fairy Queen
White, Black
22cm Doll size (Neo)
Set includes: Skirt, blouse, bonnet with veil, socks
*Does not include doll or doll shoes.

Price: ¥13,800 + tax
Available February 22nd (Wed)
*Advanced release at the Junie Moon Shinjuku branch
*Later available in stores by the end of March.