2017.05.10
Blythe Creative Producer Junko Wong has a quick message about the 2017 anniversary doll.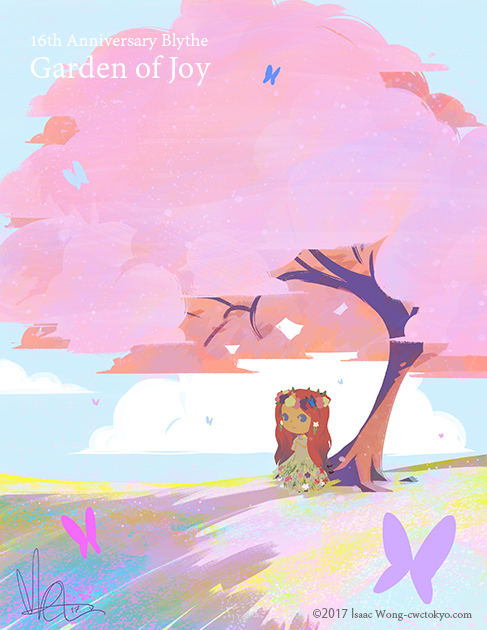 "I have been thinking a great deal about the 16th Anniversary doll which will come out in Fall 2017.
Please stay tuned as image illustrations, photos, and updates will be forthcoming!"
Behind 2017 Anniversary Blythe by Junko Wong
Garden of Joy
The Garden of Joy is a place where one can find it's own piece of happiness.
With each flower that blooms, joy spreads far and wide.
This is a special place that can put a smile on any face and happiness in any heart.
Every flower has a name, a color, a shape and a special fragrance.
The differences are obvious and each flower is unique and incomparable to another just like each person on this planet is beautiful in their original way.
These are the thoughts that flow in my mind when I look at the 16th anniversary Blythe. So I named her Garden of Joy.
This is the year of euphoria. You can call her Joy.
When Garden of Joy was in the making, the first and most important factor was beauty, then kindness and most certainly hope.
With so much turmoil and disappointment felt worldwide it was important to keep a peaceful and thankful theme with a positive attitude.
I want everyone to go to a good place when they look at the special Blythe of 2017.
An array of beautiful wild flowers are enclosed in a flowing long sheer skirt.
There is romance hidden in these flowers. She is a princess of the flower field and a giver of light and love.
You can make a wish and she is the one to make it come true.
Her hair is lush with soft looking waves that tangle gently and naturally.
She looks as though she just ran through a field of flowers and the blossoms got caught in her hair.
She is beautiful to see and refreshing to the eye.
Truly a princess, amazing to behold.
She will bring you hours of peace and relaxing enjoyment. Garden of Joy, 16th Anniversary Doll 2017. Going on 17.