2017.04.25
Junie Moon Home Sweet Home is Junie Moon's new image girl! CWC Exclusive Neo Blythe "Junie Moon Home Sweet Home" is coming!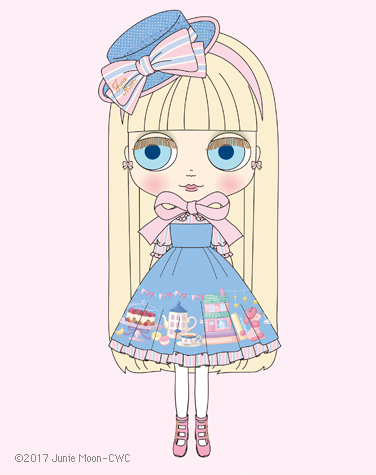 Visitors from all over will be greeted by a fresh new face at the worlds most premier Blythe store!
Her name is Junie Moon Sweet Home, a cute girl matching the very aesthetic of the Junie Moon Shop!
Story
I live in a pink house with large windows looking out.
If you peer in, you might see a cute bird cage housing many adorable little birds with beautiful voices.
I love to have tea with all of my friends from all over the world.
My name is Junie Moon, come over to my house and lets relax together!
This summer's special doll Junie Moon Sweet Home is a Lolita inspired girl.
Her dress combined mini hat with head accessory creates a delightful combination!
The coloring is pink and blue, with the ribbon acting as an accent.
Her clothing consists of a pink/blue/white striped dress with a jumper skirt with a printed on illustration of an adorable house.
Her mini hat is made to look see through, with pink piping in the brim as well as a accent ribbon with the Junie Moon logo on it.
The set is completed with a pair of ribbon piercings and a pair of strap shoes.
Her face type if Radiance Renew, and her face color is translucent cream.
Her eye shadow is olive green, and her cheeks and lip color is pink.
Her eyes are all special colors! Light purple, light brown, sky blue, light blue.
Her eye lashes are the default shape with a brown coloring.
The illustration is a design and does not represent the final product.
Available July 2017
Price: ¥18,400