2017.04.24
Her folk look is an adorable thing! Announcing Neo Blythe Joana Gentiana's concept illustration!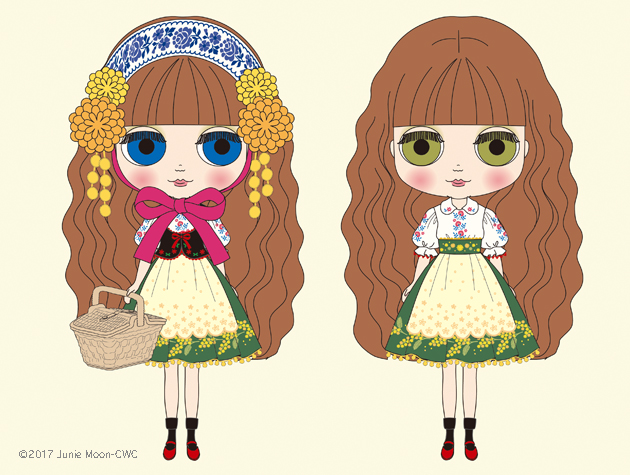 In the mountains where the sky is a clear, piercing blue,
where the cold rivers nourish the people of a small village,
is a field of flowers, perfect for picking.
The yellow Gentiana found there make a perfect tea!
What a joy to be able to grow up drinking delicious tea that makes you beautiful and strong!
Joana Gentiana's dress reflects her upbringing in a nature surrounded mountainside.
Her folk outfit is decorated with mimosa motifs, layered with a vest and an apron sewed dress.
The puff sleeve and the front of the dress is adorned by a flower print pattern, the skirt is lined with a braided chord, and the apron is made of a cotton lace, creating a soft and gentle look for her dress.
The vest is intricately detailed, with embroidered flowers and a border along the edges.
The yellow flowers and mimosas that decorate her voluminous head accessory is what makes Joanna Gentiana amazing!
Her face type is Radiance Renew, and her face color is fair.
Her hair color is brown , and her hair style is a slightly permed long, with her bangs cut above her eyes.
Her eye shadow is green, and her cheeks and lips are pink. One of her front facing eye chips are olive green.
*The illustration is a proof of concept and does not reflect the final product.
Available: June 2017
Price: ¥17,900