2017.05.25
Come visit the green village of Neo Blythe "Joana Gentiana"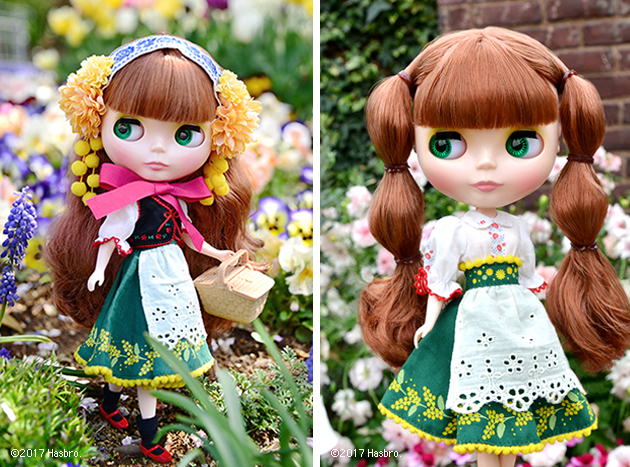 The village home of Joana Gentiana lives a blessed life in nature.
All of the villagers are kind hearted and they live in peace and harmony.
She makes her famous tea from the rare "yellow gentian" flower which all of the villagers love.
Joana Gentiana wears a cute folk costume that includes delicate motif of mimosa and wild roses.
Light pink and dark green are soft and gentle against the dark base colors.
She wears a soft cotton lace apron with a billowy blouse printed with tiny rose motif on the chest, the skirt has tiny mimoa prints and pompoms.
The head accessory is a adorable addition with large flowers and delicate mimosa printed headband to frame her sweet face.
The head accessory attaches under the chin.
She wears black socks and bright red strap shoes.
Finally her basket is the perfect fit for her trip into the forest and hills.
This is the new Radiance Renew face mold in Fair skin color.
She has long brown hair with a lose perm and bangs.
Her make up is the image of a healthy girl with green eyeshadows, pink cheeks and lips.
She has a special olive green eyes with a forward gaze.

Face Type: Radiance Renew (new face mold)
Face Color: Fair
Makeup: Eyeshadow- green, Lip- Pink, Cheek- Pink
Eye Color: Olive Green (front), Blue (Right), Pink (front), Stock Green (Left)
Eyelashes: Black
Hair Color: Brown
The Set Includes: Doll, one piece dress, vest, head accessory, basket, shorts, socks, shoes, and stand (height 17.5 cm)
Release Date: June 23, 2017
Price: 17,900 JPY
* The hair has been arranged for product images.