2017.05.15
The illustration of Neo Blythe "Pineapple Princess" is here.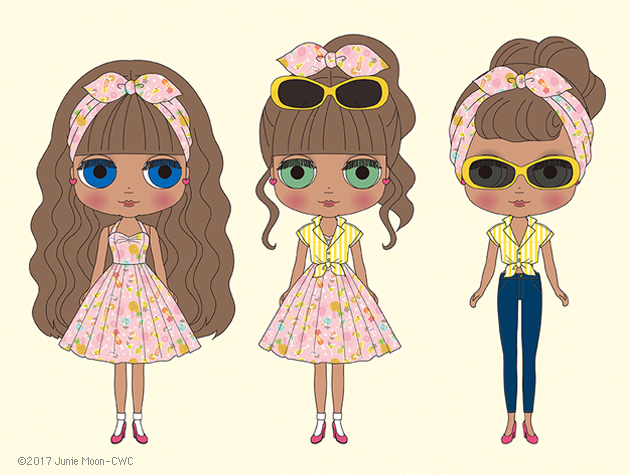 My boyfriend gave me the nickname Pineapple Princess.
When the sun is beating down on me on those hot summer days, I love to cool down with a glass of pineapple iced tea.
That's my favorite way of relaxing leisurely.
The sunshine really compliments Pineapple Princess.
Her 50's style fashion, bright demeanor and sparkling smile makes her a popular girl.
She wears a dress for sandy walks at the beach, and a dress and shirt for the nights out with her boyfriend, and a pair of pants for a day out with her friends!
Her dress is decorated with a pineapple and cocktail pattern, and her wide brimmed skirt elegantly flows from her waist.
Her shirt is french sleeved, tied compactly at her wrists, and her capri's are slim and versatile.
Her many small accessories are perfect for staging a variety of scenes, with her sunglasses, hair band, heart earrings, double folded socks, and high heel pumps.
Her face color is a translucent Mocha, showing her warmly tanned skin, clear and healthy.
Her face type is radiance renew. Her hair color is brown, and her hair is cut short at her bangs, with a loose perm going down.
Her eyeshadow is brown, and her cheeks and lips are a colorful pink. one of her front facing eye chips is blue green.
*The illustration is a proof of concept and does not represent the final product.
Available July 2017
Price: 17,900 JPY