2017.06.06
16th Anniversary Doll "Neo Blythe Garden of Joy" 2nd interview with Junko Wong is here!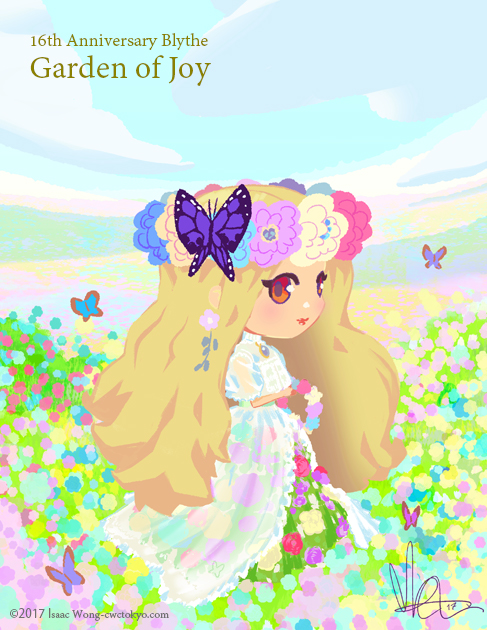 Creative Producer Junko Wong talks about the "Garden of Joy!" We look forward to her release!
Behind 2017 Anniversary Blythe by Junko Wong
Garden of Joy
Creative Producer Junko Wong talks about the "Garden of Joy!" We look forward to her release!
Q1. What kind of girl is Garden of Joy?
A1、Garden of Joy is euphoric and feels excited and happy to be alive.
She knows the meaning of the "joy of life" to it's fullest extent and knowing her will inspire you to love and laugh.
She is always smiling softly. Her eyes are shining and looking far ahead.
She flings her hair aside and looks deep into a person's heart.
Her euphoria is internal but she exudes it through her presence.
She has a gentle touch and her fingertips are cool and comforting. I believe she is a healer and a reminder of doing what is right.
She is ageless. She is young and she is old. She is naive and she is wise. She is Joy.
  
Q2. What is Garden of Joy's make up, skin and hair type, and charm points?
A2. Her makeup is pretty, natural and dewy. It gives her an image of purity.
Her hair is flowing and wavy. It looks as though she let the wind blow gently through her hair.
Q3. What is her fashion like?
A3. She is wearing a dress that transforms her into garden.
She is wearing the garden on herself. She is the garden of joy and her dress represents that.
Q4. What are the reasons why you chose to make her outfit and makeup like that?
A4. The makeup and fashion are what visualizes the philosophical concept of Garden of Joy.
It pulls it all together.
Q5. What are your top three most favorite flowers?
A5. My favorite flower is the rose because of its beauty, fragrance, vulnerability an d strength.
I love it also because there are so many species unique in it's own way yet still a rose.
I love fragrant flowers such as the jasmine and lilac and grow them in my garden.
I love uniques tropical flowers such as the plumeria and puakenikeni that are also both fragrant and remind me of the vast ocean and never ending sky.
 
Q6. Are there any places on earth that you consider to be paradises?
A6. I have been to Bali and to a remote part of Hawaii called Hana both considered the last paradise on earth.
I have been to the countryside of europe where the flower fields expand beyond the horizon.
Q7. Why is that?
A7.The climate and the terrain are different but are all like paradise to me.
Anywhere you can capture a moment of peace,where the land is loved and cared for and the sea, sky and the mountains meet in harmony is paradise to me.
Q8. What are some fun activities you can do with Garden of Joy
A8. First try seeking quiet contemplation with Garden of Joy. And then take her out to places YOU think is paradise.
Surround her with flowers that are YOUR favorite.
These thought processes will give you many hours of bliss.

Q9. What kind of fashion looks good on Garden of Joy
A9.She is a very pretty girl so I am sure she will look good in anything.
She is timeless so she can be dressed in fashion from the past such as the Victorian period or she can a modern girl in today's fashion formal or casual.
Q10. Lastly, what was your message you wanted to send through Garden of Joy
A11. She is our anniversary doll so she is very special to us.
We want to express more than just hobby or collecting, we want her to be a manifestation of hope, joy and love.
We hope that having her in your home will become a symbol of these important emotions and that she will bring the owner euphoria and happiness.


Isaac Wong llustration is here
http://www.cwctokyo.com/artists/isaac-wong/