2017.06.08
Eco-Friendly "Blythe Reuse Bottles" are back with new designs!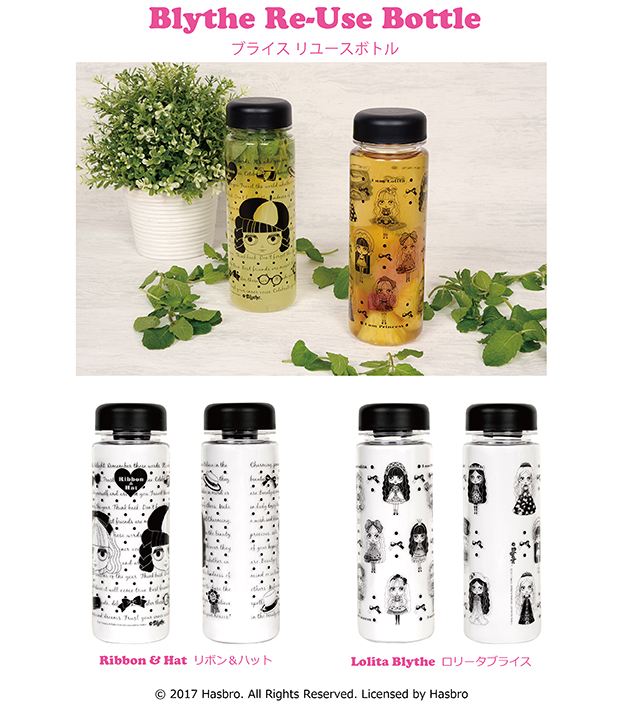 We are happy to launch new designs for the "Blythe Reuse Bottle".
The light and slim design make it a popular item for your active lifestyle. Take this reuse bottle to the beach, office, school or to your favorite sport.
Hot and cold drinks are ok in this special polypropylene bottle.
The mouth of the bottle is wide to include fresh fruit for homemade spa water or ice to keep things cool.
There is a splash guard to keep the ice safe from spillage. This clear bottle has illustrations of Blythe.
There are two designs to choose from: Ribbon & Hat, and Lolita Blythe.
Please enjoy your favorite drink on the go with Blythe!
*Please note, water bottle will be hot to the touch if you fill with hot beverages.
" Blythe Re-Use Bottle"
2 type/Ribbon & Hat, Lolita Blythe
Size: diameter6.5 x H19.5cm
Capacity: 500ml
Materials: Polypropylene (cap, inner cap), saturated polyester (bottle)
Thermostability: -40℃~100℃, *Do not use dish washer to clean
Caution:
- Please keep cap screwed on tight for use.
- This product cannot be used as a shaker.
- Vigorously shaking this product may cause the inside to leak.
- This product does not insulate heat or cold. Please drink as soon as possible.
- Do not use in a microwave.
- The material, especially the printing, can be scratched easily. Please use a soft sponge to clean this bottle.
Price:1,800 JPY
Available:June 24th, 2017