2017.06.15
Doesn't her tanned skin dazzle against the sun? Neo Blythe Pineapple Princess is coming soon!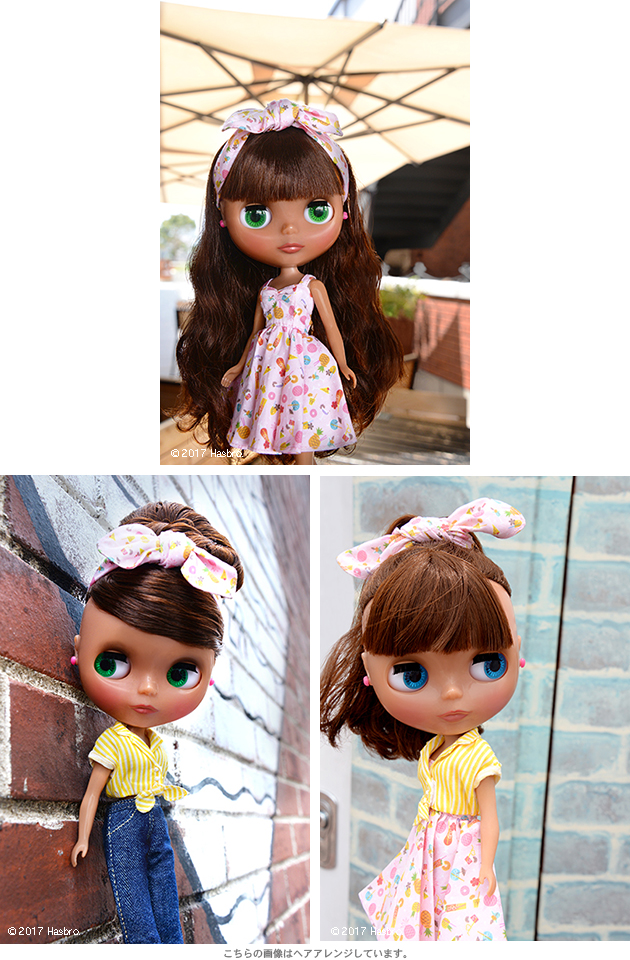 I love those sweet, juicy pineapples that have soaked up the summer sun!
Nowadays I love to have it in cold ice tea.
I love pineapples so much that my boy friend calls me "Pineapple Princess"!
I love my boyfriend and my new nick name!

American 50's fashion is Pineapple Princess' favorite look.
She has an assortment of outfits, for the beach, out on the town, and even for sports!
Change her clothes to match the occasion!
Her tanned, translucent skin and her bright aura is exactly what you expect from the Pineapple Princess!

The fabric of her dress is specially printed with an original pattern of pineapples and drinks.
Along with the flowing skirt and the gather on the chest, the dress has tons of girlish charm.
The capris she is wearing are made from denim.
Her french sleeved shirt is perfect in any combination; over her dress, with the cherry pink heart ear rings and pumps, the vivid colors give her a sprightly and energetic ambiance.
The hair band that comes with the dress is a great way to mix up her look too!

Her face color is a newly made translucent Mocha color, which has a alluring subtlety to it.
Her face type is Radiance Renew.
Her hair color is brown, and her hair style is a slightly permed long with short bangs.
Her eyeshadow is dark brown, and her cheeks and lips are almond pink. One of her front facing eyechips are light green.

Face Type: Radiance Renew (Based on the Radiance mold)
Face color: Translucent Mocha
Make up: Eyeshadow - Dark brown, Cheeks and Lips - Almond Pink
Eye color: Light green (front) *special color, Blue (right), Pink (front), green (left)
Eyelashes: Black
Hair color: Brown
Ear rings: Cherry pink hearts
Manicure: n/a
Set includes: Doll, dress, shirt, pants, sunglasses, hair band, ear rings, socks, shoes, shorts, stand (17.5 cm tall)

Available: July 14, 2017
Retail Price: 17,900 JPY

*The hair has been set for the image.
*Details are subject to change.