2017.06.29
In September 2017, a new anniversary doll is born! CWC Exclusive 16th Anniversary Neo Blythe "Garden of Joy" Illustrations are here!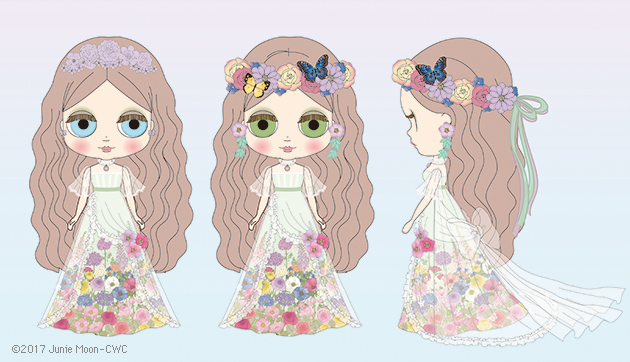 This year's 16th Anniversary Neo Blythe is a goddess who watches over the happiness of the people at the Garden of Joy.
She has an etherial beauty, an intelligent mind, and a heart filled with compassion.
She springs forth from the gorgeous flowers blooming in the Garden of Joy to bring us our new gorgeous Blythe.
Story:
"I am the Garden of Joy who watches over everyone's happiness.
Each time a flower blooms it spreads joy and happiness to all.
With plenty of joy and smiles the garden is in full bloom.
"Garden of Joy" wears a lovely gown of beautiful flowers.
She's the picture of a princess with the shiny satin and sheer organdy fabric.
The bodice has a delicate sheer fabric over the décolletage.
The tiny rhinestone neckline is an attractive accent.
The silhouette of the skirt is that of a princes line with much volume.
The underskirt is stain with many images of blooming flowers.
The organdy overskirt has a shortened hem in back and lots of ribbons.
Her fashion accessories include a sweet flower crown with lace earrings and pearl green pumps.
She has a special Radiance Renew face with translucent cream skin.
Her hair is a mauve and blond mix with long center part.
She wears brown and green eyeshadow, plump pink lips, and pink cheeks.
She has special light brown eyelids and special brown eyelashes.
Her eyes are all special colors of light brown, light blue, light purple and light green.
* This is an illustration image. Please note final design may differ from design image.
Release Date: September 2017
Price: 27,700 JPY
We look forward to sharing all of the final images with you.
Garden of Joy is looking forward to meeting you!