2017.09.14
Hasbro Limited Neo Blythe "Sherry Victorian" image released!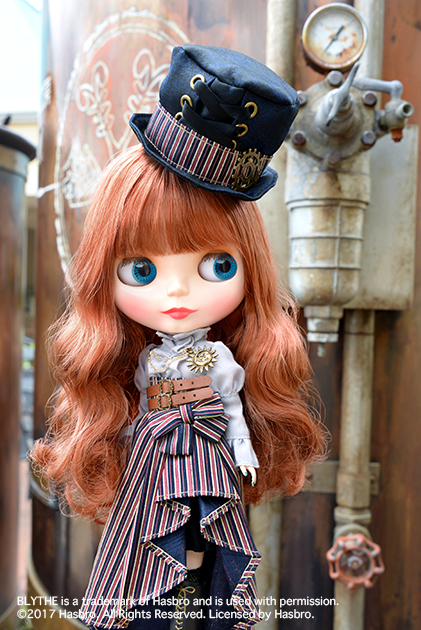 Hasbro Exclusive Neo Blythe "Sherry Victorian" is a novelist dressed in steam punk fashion.
We will shortly release the very final images of the doll so please stay tuned!
We look forward to launching "Sherry Victorian".
Face Type: Radiance +
Face Color: Cream
Makeup: Brown eyeshadow, red lip, rose cheek
Eye Color: orange (front), blue (right), gray (special color), purple (special color)
Eyelid: Brown (molded color)
Eyelash: Special Brown
Hair Color: Reddish Brown
Earrings: None
Manicure: Dark Blue
Set Includes: Doll, one piece dress, under skirt, hat, goggles, socks, boots, shorts, and stand (17.5 cm)
Release Date: October 2017
MSRP Price: 22,500 JPY
* This item is a Hasbro limited.
This will be sold in Asian countries outside of Japan by Hasbro, the licensee of Blythe.
Sales in Japan will only be handled by Junie Moon stores.
* Because this doll is a Hasbro Limited it will be sold at Junie Moon stores for 23,625 JPY.
Please note this is different than the Manufactured Suggested Retail Price.