2017.09.21
Leave it to me if it's about the music! Neo Blythe "Musical Trench" final specifications announced.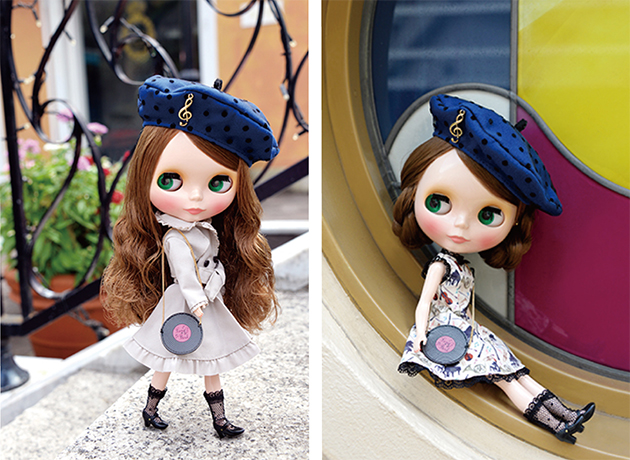 " I love music and I am an expert at music.
My favorite thing is listening to classical music flowing from and old record received from my grandma.
I love listening to live music, so let's go to the concert together!
Surly you will be a fan of classical music too."

The chic and mature coloring of her clothing is punctuated with note and record motifs.
There are cute illustrations of piano, violin, saxophone and trumpet along the fluffy a-line skirt with frills and girlish trench coat.
The coat buttons are sweet heart shaped.
 
She has select fashion accessories.
Her bare hat has dot patterned tulle on the surface with elegant design and acoustic note symbols.
Her shoulder bag is shaped like a fun record.
She wears heart shaped golden ear studs.
She wears strap shoes with cute tulle socks.
 
She has a Radiance Renewal face type in the color "Fair".
Her light brown hair is long with a loose perm and fashionable side part.
She wears elegant makeup with brown eyeshadow, pink lips and pink cheeks.
She has special light brown eyes in the front gaze.

Face Type: Radience Renew
Face Color: Fair
Makeup: Brown eyeshadow, pink lip, pink cheeks
Eye Color: Orange (front), blue (right), light brown (front, special color), Green (left)
Hair Color: Light brown
Earring: Gold colored heart studs
Manicure: yes
Set Includes: Doll, dress, coat, hat, earrings, bag socks, shoes, shorts and stand (17.5 cm)
 
Scheduled Release Date: October 20
Price: 17,900 JPY

*The hair has been arranged for this image.
* Final product may differ from this image.
 
Junie Moon Online Shop International https://www.juniemoonshop.com/