2017.09.21
How Handsome is Her Steam Punk Look! Hasbro Exclusive Neo Blythe "Sherry Victorian" Final Specs!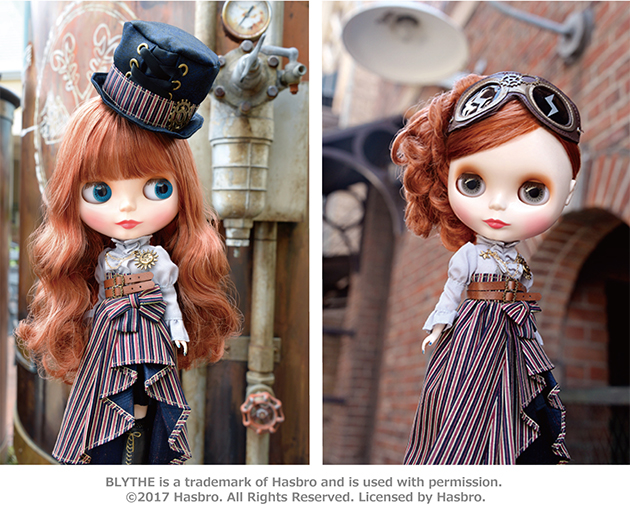 Sometimes, I like to travel through time to meet my friends. Who you ask?
H.G. Wells and Jules Verne of course! I love to chat with them, thinking up new concepts for our books and inventions.

Sherry Victorian loves Neo Victorian Steam Punk fashion!
The intricately made high function machinery and the unique and cutting edge steam based inventions give her look a classical yet modern atmosphere.
She wears a Steam Punk inspired dress, with her blouse decorated with a bloom of frills.
Her sleeves and shoulders are based off of a high class Victorian silhouette, with an added speckling of celestial charms.
Her asymmetrical fishtail skirt prominently features her underskirt.
The whole look is complete with a large ribbon and fake leather belts!
As any proper Neo Victorian lady should, Sherry also wears a silk hat with steam punk goggles attached.
At her feet, she wears knee high socks and a pair of long boots.

Her face type is Radiance+ and her face color is cream.
Her brown hair is long, permed lightly with her bangs cut across.
Her eyeshadow and eye lids are brown, and her eye lashes are a special brown.
Her lips are a special pinkish red.
One of her front facing eyechips are gray, and her left facing eyechips are purple.

Face Type: Radiance +
Face Color: Cream
Makeup: Brown eyeshadow, red lip, rose cheek
Eye Color: orange (front), blue (right), gray (special color), purple (special color)
Eyelid: Brown (molded color)
Eyelash: Special Brown
Hair Color: Reddish Brown
Earrings: None
Manicure: Dark Blue
Set Includes: Doll, one piece dress, under skirt, hat, goggles, socks, boots, shorts, and stand (17.5 cm)

Release date:October 27, 2017
MSRP Price: 22,500 JPY

*This item is a Hasbro limited.
This will be sold in Asian countries outside of Japan by Hasbro, the licensee of Blythe.
Sales in Japan will only be handled by Junie Moon stores.
*Because this doll is a Hasbro Limited it will be sold at Junie Moon stores for 23,625 JPY.
Please note this is different than the Manufactured Suggested Retail Price.

Junie Moon Online Shop International https://www.juniemoonshop.com/