2017.10.05
The Blythe Customize How to Book will be available soon!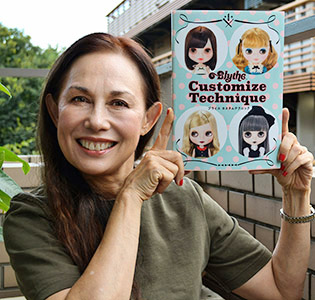 Each Blythe starts as an idea in my head and after a year of development she is born and placed in a box designed especially for her. Her make-up, hairstyle and fashion all come together with her name and story. In a way, Blythe is like my own child. I often keep her in her box and gaze at her and feel complete satisfaction for who she has become.
For many people this is enough, but customizing your Blythe will take your relationship with her even deeper. It is a chance to express yourself by emphasizing certain aspects of her looks. It is another avenue to enjoy her. Tweak her just a little to make her into your ideal image. Or go wild and use her as the foundation of your fine art project. She will proudly be the art piece you intend her to be. Your touch brings her to life!
There are many techniques you can use to modify how your Blythe looks. You can start by simply washing her hair and styling it a certain way. You can change her makeup, radically carve her skin and change the shape of her mouth to an expression of your choice.
She is there for you as your muse. Breathe your life into her and you will see her blossom before your eyes!
In the back of this book, we feature artists from around the globe who have taken the customization of Blythe to a high level. They are Blythe fans who have over time become artists in the craft of customizing Blythe. We have included photos of Blythe customized by Junie Moon as one of the examples to show how simple customization can be. We have also included examples that have transformed Blythe into characters that stagger the imagination. We are grateful for these artists' participation in this book and for sharing their vision with us.
Now, it's your turn to be free and creative with Blythe. Express yourself and enjoy.
Junko Wong
Creative Producer
---------------
Blythe Customize Technique
Size: H25.7xW18.2cm, soft cover, 127 pages
Topics of Interest
- Basic Blythe Knowledge
- Tools
- How To Customize (Levels 1~3)
- Make Up
- Extra Techniques
- Customizers from Around the World Q&A
Published By Junko Wong, CWC Books
Publishing House: Graphics Sha Co.,Ltd.
ISBN:978-4-7661-3104-8
MSRP: 2,200 JPY + Tax
Junie Moon Release Date: October 7th, 2017