2017.10.10
Illustration Announcement for Neo Blythe "Gerda Eternity" who travels through the country of snow and ice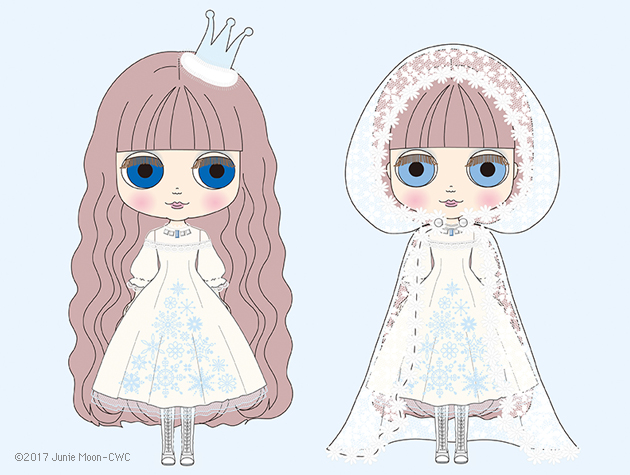 Gerda crosses the country of snow and ice looking to visit her friends.
"When I traveled in the world of ice, I found a friend and gave them a gentle hug.
I am happily living in her love."
Garda Eternity is a kind hearted girl.
She helps her friends in the country of snow and ice.
She is a beautiful and noble princess.
She wears a white dress with white laced hood.
The design incorporates crystal snow motifs in the one piece dress with light blue accent colors. Her accessories include a fur crown, silver fish net tights, and opalescent long boots.
Her elegant coloring matches the beautiful image of snow and ice.
Her face type is Radiance Renew, her face color is cream.
She wears long hair with bangs in a beautiful purpley brown.
She has blue eyeshadow, pink lips and cheeks, with special brown eyelashes.
The special eye color is blue in the front facing gaze.
This is a design illustration, final product may differ from this image.
Release Date: December 2017
Price: 16,900 JPY