2017.10.23
Neo Blythe Magical World of Sugar Sugar Rune Presents ~Chocolat Blythe!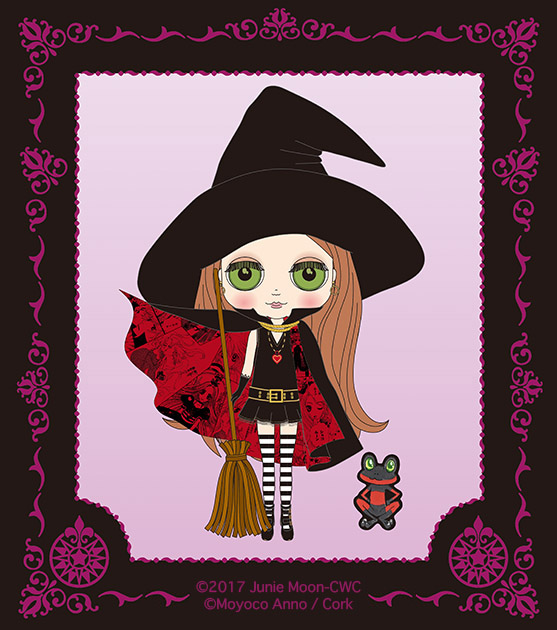 I'm Chocolat Meilleure, a spunky girl with a lot of love!
I'm going to catch everyones hearts using my magic and win the Throne of the Underworld!
Capture your heart! Love and Happiness is mine for the taking!
Blythe has transformed into Chocolat from Anno Moyocos hit comic Sugar Sugar Rune!
Her outfit is loyal to the original but also gives it a Blythe-like charm.
Her signature no sleeve dress and cape is a given, including her witch hat, pendant, and broom.
along with her frog familiar Duke, her accessories include ear rings, gloves, bloomers, knee hgih socks, and strap shoes.
Her face type is Radiance+, and her face color is fair.
Her hair is long in length, parted in the center and permed lightly.
Her hair color is a mix of brown and a reddish brown.
Her eyeshadow is orange-ish brown and her eyelashes are a special black color.
Her eye lids are brown, and her cheeks and lips are salmon pink.
Her eyes are all special colors!
Get ready for Chocolat, coming this winter!
*The illustration is a concept and does not represent the final product.
Available: December 2017
MSRP: 25,600 JPY +tax