2017.12.15
Kimono Secret, Coming Very Soon from Junie Moon Dolly Wear!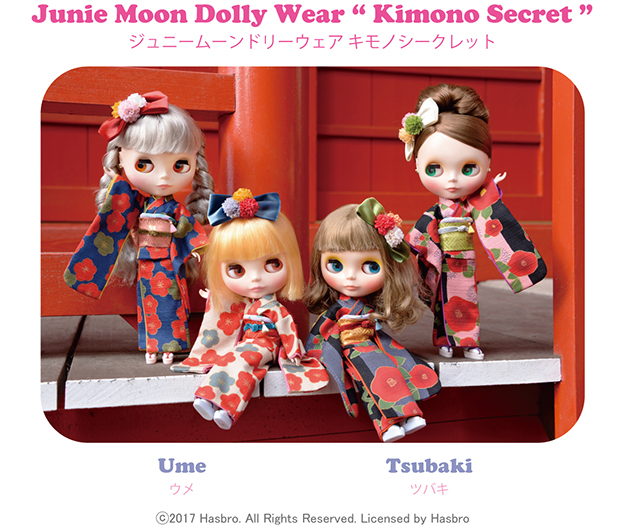 Transform your Blythe into a authentic Japanese lady with this new kimono dress set!
Perfect for the new years celebrations that are coming up, or even for casual tea parties!
It mixes a good ratio of modern and classic, which makes it easy to use in any situation.
The designs are Plum and Camellia, with two different color ways for each pattern.
The obi is authentically made, with gold brocade weaved into the fabric for the obi age, obi jime, and shoulder decorations.
The obi is all made in one piece, which makes it very easy to strap on.
The hair ornament is a velvet ribbon with three different flowers attached. It's backed with a comb which makes attaching to hair simple. Part your Blythe's hair with this ribbon!
Kimono Secret
4 Types: Plum Blue, Plum Beige, Camellia Black, Camellia Pink
22cm Doll Sized (Neo Blythe)
Set Includes: Kimono, obi (obi age, obi jime), hair ornament
Package: Card Paper, plastic bag
*Does not include Doll, doll shoes.
Release: December 20,2018
*Pre-sale at all Junie Moon stores
Price: 7,980 JPY
Junie Moon Online Shop International https://www.juniemoonshop.com/