2017.12.21
Frolic in the sun-dappled rose garden of CWC Exclusive Neo Blythe Majesty of Hearts!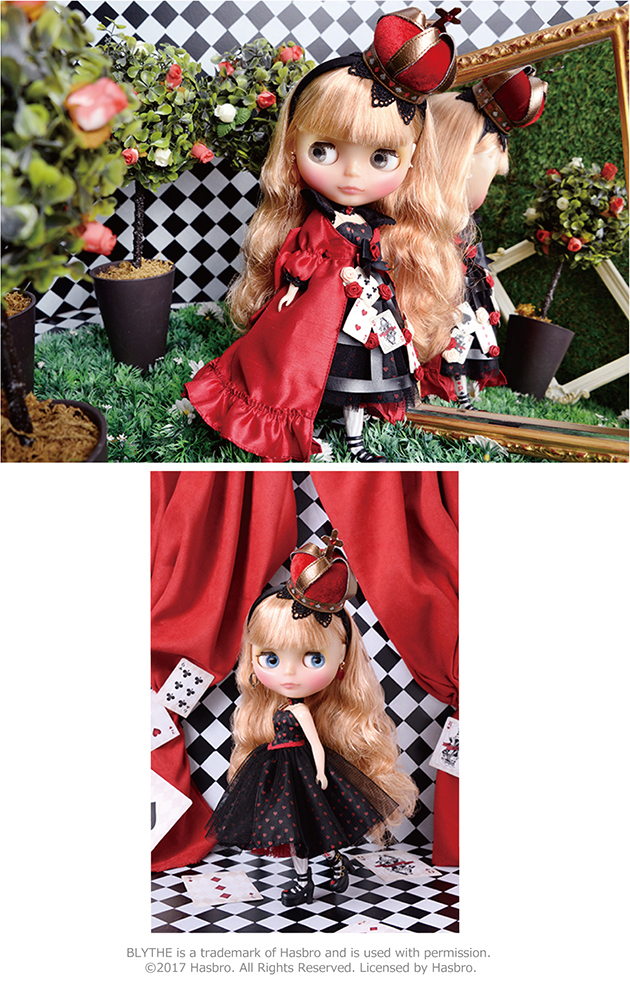 Don't be afraid of the Queen of Wonderland; her Heart is gentle and welcoming!

Majesty of Hearts wears a princessly dress with a little bit of Goth sprinkled throughout.
Her outfit is separated in under and over dresses, with the under being a middie sized dress with a heart pattern sprinkled throughout, a casual look perfect for outings. Her full outfit includes a large dark red overdress with a beautiful shine to it. From the large collar that reaches the face, the volumetric skirt with the playing cards and rose motif, and the large ribbon on the back, this dress is hard to ignore.

Many of the accessories are original to this outfit! The crown headdress is made of dark red velour and gold fake leather, with a rhinestone heart in the cross. The choker is made with a satin ribbon with a smaller heart-shaped rhinestone. The earrings are different per ear: one is a heart and the other a Q.
The garter tights are printed with a medley of cards, crowns, Q's and A's, with a heart at the toes, all shelled in an elegant pair of four strap shoes.

Her face type is Radiance Renew, and her face color is a translucent cream.
Her hair is a light brown/brown mix, cut straight across the bangs with a slight perm.
Her makeup consists of brown eyeshadow, rose pink cheeks, and a blooming rose pink on the lips with a slight line in the corners of the mouth.
The eyes are light orange, blue, light blue, and grey, all special.
Her eyelashes are also a special brown color!

Face Type: Radiance Renew
Face Color: Cream (Translucent
Makeup: Brown eyeshadow, rose pink lips lined at the corners, rose pink cheek
Eye Color: Light orange (front), blue (right), light blue (front), grayish light brown (left) *all special
Eyelid: Slight beige
Eyelash: Special light brown
Hair Color: Light brown/Brown mix
Earrings: Heart/Q shaped ear rings (one pair)
Manicure: Pink
Set Includes: Doll, dress, overdress, crown, earrings, choker, panier, rights, shorts, shoes, and stand (12 cm)

Release date: January 30, 2018
MSRP Price: 24,900 JPY
*The hair has been set for the image.
*Features are subject to change.