2018.01.15
Sugar Sugar Rune x Junie Moon Dolly Wear Collab!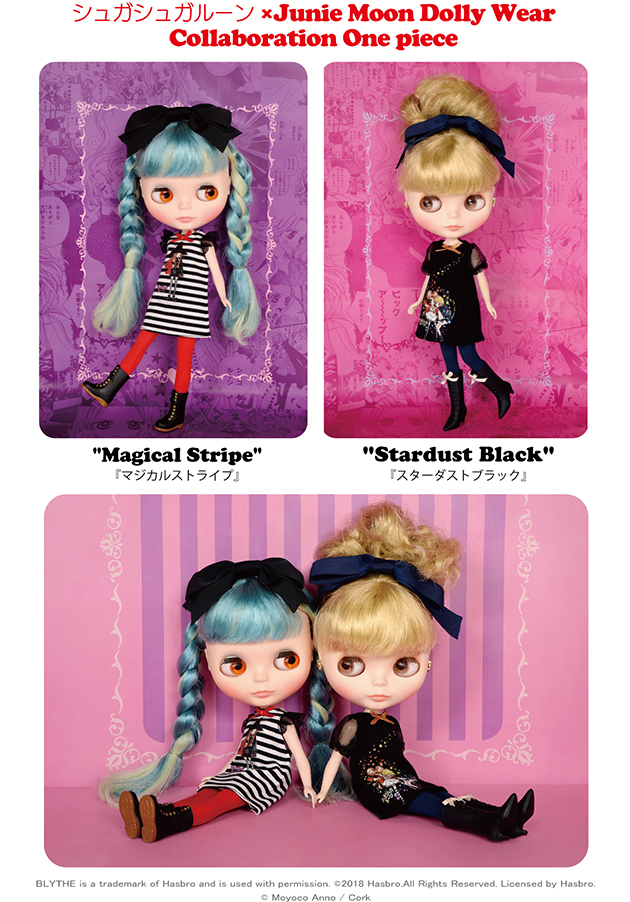 "Magical Stripe" and "Stardust Black" printed dresses are coming!
Sugar Sugar Rune is Moyoco Anno's magical love fantasy story.
Chocolat and Vanilla fight to collect the hearts of those in love to decide who will become the Queen of the Underworld!
Their friendships, their love, and the quirky and beautiful world are something to behold.
Junie Moon Dolly Wear will be releasing a pair of dresses inspired by this world with Magical Stripe, a monotone bordered look that would befit any good witch, and Stardust Black, a design that features both Chocolat and Vanilla as stars.
Give your Blythe a witchy makeover with these Sugar Sugar Rune collaborations!
Junie Moon Dolly Wear
Magical Stripe / Stardust Black
22cm Doll Sized (Neo Sized)
Includes: Dress
Packaging: Card paper, plastic bag
*Does not include doll, doll shoes.
Price: 2,800 JPY
Available: January 20th (Sat)