2018.03.02
Come Join our Secret Tea Party! Middie Blythe "Pebble Cake and Shrinking Alice" Final Specs!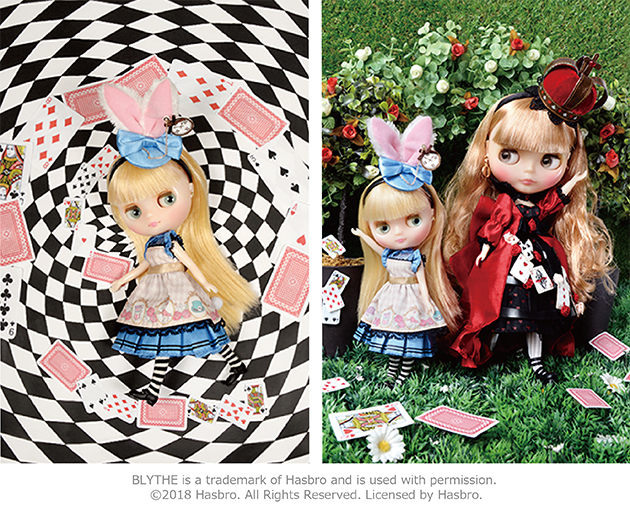 This world is filled with wonders!
Was it because I ate the pebble cake or because I drank the drink?
I'm all small!
Why not enjoy this wonderful tea party until I turn back to my normal size?
Now, eat up this delicious cake!

Pebble Cake and Shrinking Alice's most prominent features are its apron dress and rabbit ear hair dress.
The dress uses a glossy blue fabric with box pleated lining at the end.
The chest is lined with a shiny organdy fabric.
The dress is covered in Wonderland chic designs, from a diamond design backing, roses, a teapot, a rabbit, a cat, a top hat, playing cards... everything that evokes the world of Alice!
The headdress is a very important point. The pocket watch and ribbon detail are sure to draw eyes at any tea party!
They can also be taken off, turning them into a simple black headdress.
The gold heart earrings, bordered high kneesocks, and strap shoes complete the Alice look.
Her face color is a translucent cream. Her hair is blonde, cut straight across the bangs.
Her eyeshadow is brown, cheeks pink, and lips a blurred pink with a line drawn in the corners of the mouth.

Face Type: Middie Blythe
Face Color: Translucent Cream
Makeup: Brown eyeshadow, blurred pink lip with a drawn in line in the corners of the mouth, pink cheeks
Eye Color: Light blue
Eyelid: Default
Eyelash: Brown with a default shape
Hair Color: Blonde
Earrings: Heart shaped
Manicure: N/A
Set Includes: Doll, dress, headdress, earrings, socks, shoes, shorts, and stand

Release date: March 30, 2018 (Fri)
MSRP Price: 12,400 JPY + tax

*The final product may differ.