2018.03.16
Neo Blythe Jillian's Dream Final Specs! Come Take a Stroll Through the Streets of Ginza With Me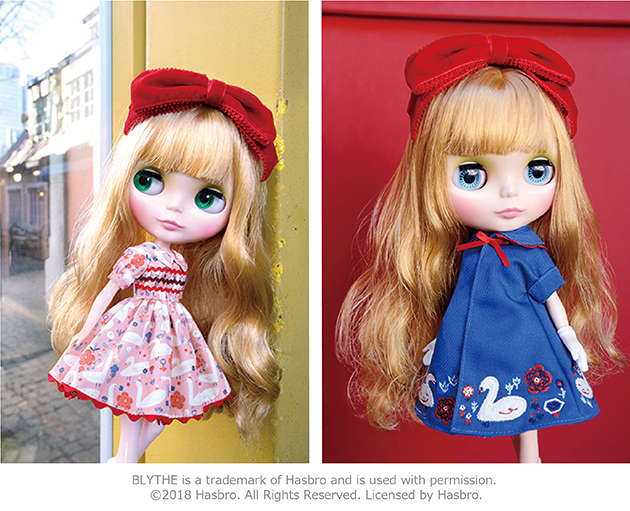 In my dreams, I find myself in Ginza. The swan boats, the beautiful restaurants, the glittering lights as I walk down the crowded streets… I find myself nostalgic for the 60's when I wake from those dreams, so I don my goose coat and make my way to the city.

Jillian is going out to the city with her charming goose coat! Her dress is made with a geese printed fabric, smock embroidered with a low collar and gathered at the waist of the skirt. This dress is covered head to toe with an A line silhouette coat featuring the cutest pair of geese leisurely floating in a pond, surrounded by adorable flower appliqués.

Her hair accessory is a red velvet ribbon, attachable by comb. Her gloves and socks are white, evoking a cleanly elegance. Her shoes are a pair of black, strap on loafers.

Her face type is Radiance Renew, and her face color is Fair.
Her light brown hair is lightly permed and cut straight across the bangs.

One of her front facing eye chips are a special light blue.

Face Type: Radiance Renew
Face Color: Fair
Makeup: Green eyeshadow, Pink lip, Pink cheek
Eye Color: Light Blue (front *Special color), Blue (right), Orange (front), Green (left)
Eyelid: Default
Eyelash: Default
Hair Color: Light Brown
Earrings: N/A
Manicure: N/A
Set Includes: Doll, dress, coat, ribbon, gloves, socks, shoes, shorts, and stand (17 cm)

Release date: April 20 (Fri), 2018
MSRP Price: 17,900 JPY + tax

*Hair has been combed in the photo.
*Details are subject to change.