2018.03.20
New Colors Coming to Blythe Original Super Deluxe Wigs!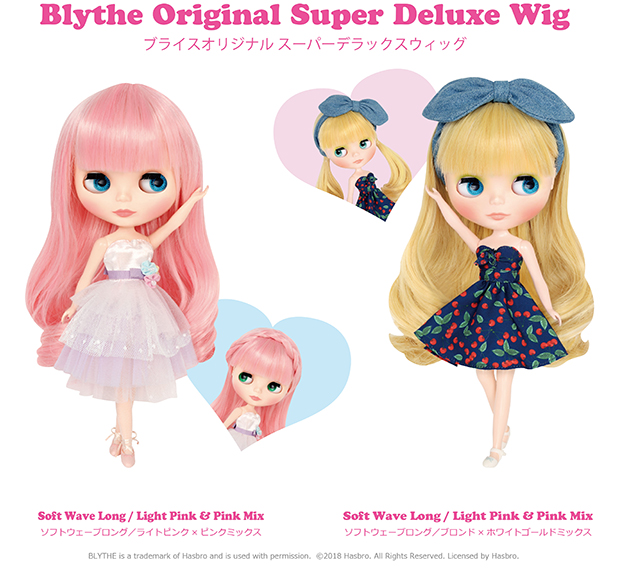 Go all out this Spring season with Blythe!
These new wig colors are sure to bring in a breathe of fresh air. These new pink and blonde wigs are long with a slight perm, cut straight across the bangs. The blonde is actually a blonde/white gold mix, and the pink is a light pink/pink hybrid that adds a subtle and tasteful depth. The under cap comes with the set, so applying the wig is simple and fuss free!
By applying heat and pressure to the wig you can style the wig in any way you like. Simply set your hair iron to 100-190℃ and apply it to the wig for 10-15 seconds. This will allow the hair to set in the shape it was ironed! The fibers of the wig are of high quality materials that prevent tangling; however, be advised that prolonged ironing can cause irreparable damage to the wig.
*Check the handling guide before ironing.
Blythe Original Super Deluxe Wig
2 Types: Soft Wave Long/ Light Pink, Pink Mix and Blonde, White Gold Mix (Comes with Under Cap)
Material: 100% Polyester
Made in Japan
Available March 21st (Wed) Available first at all CWC Affiliated Stores
Price: 6,800JPY + tax