2018.04.20
New Blythe Smartphone Cases on it's way!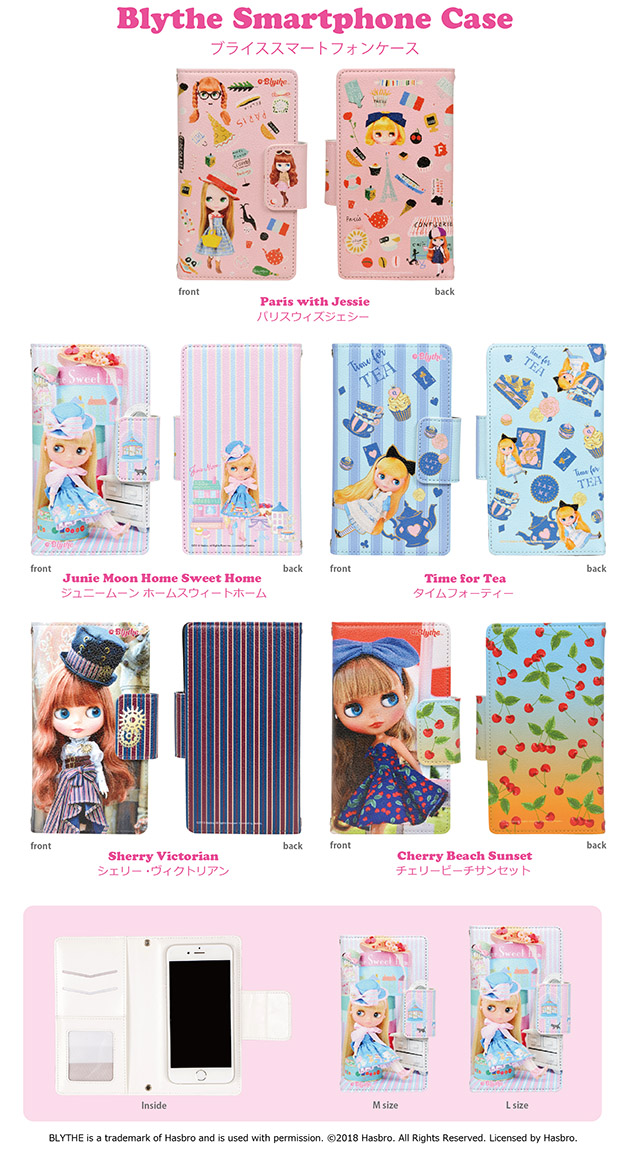 These handbook style cases are perfect for carrying around your phone, credit cards, and cash safe and sound. These cases are also great for expressing yourself, with the cute, girly, fantastic, and cool styles. Switch it up and enjoy the seasons with Blythe!
The designs are "Paris with Jesse", which features the City of Love, the demure face of the Junie Moon shop "Home Sweet Home", have a friendly afternoon snack with "Time For Tea", the daring steampunk world of "Sherry Victorian", and the sunkissed look of "Cherry Beach Sunset". All designs come in M and L sizes.
These cases are designed to be utilized by many different types of phones. Want to use your phone camera? Simply slide your phone up and it'll snap into place. Take snapshots with the case still attached! The case flap is magnetized for ease of use, and the inside is lined with 3 pockets perfect for keeping your IC card. The outside features two strap holes to add whatever trinkets or loops you desire.
Blythe Smartphone Handbook Case
Types: Paris With Jesse, Junie Moon Home Sweet Home, Time For Tea, Sherry Victorian, Cherry Beach Sunset all with M and L sizes
Materials: Faux Leather, Polycarbonate, comes with strap hole
Made in Japn
Price: 3,800 JPY
Available: May 12th, 2018 (Sat)
Junie Moon Online Shop International https://www.juniemoonshop.com/