2018.05.15
17th Anniversary Doll "Neo Blythe Unicorn Maiden" interview with Junko Wong is here!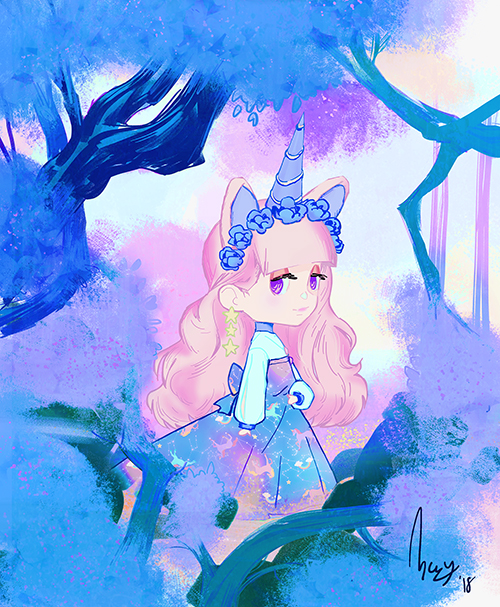 Creative Producer Junko Wong talks about the "Unicorn Maiden" We look forward to her release!

Behind 2018 Anniversary Blythe by Junko Wong


Q1. What did you think the first time you saw Blythe?
A1、She had a shojo manga look to her that was very appealing to me and I knew would be appealing to many people in Japan where I lived.
So I wanted to bring her here and introduce her to this country which has a strong anime and manga culture that reaches all ages.

Q2. Tell us about the day you first released the Neo Blythe in Japan.
A2、A long line of people were in front of Parco as I drove by to get to the launch at the store.
I never dreamed at that time that it was a line to buy Blythe. I was very excited at the reception and the passion of the new collectors.

Q3. What is Blythe to you?
A3、Blythe is a friend, a partner and a model. She is an actress that plays many parts for me and takes on different persona according to the stories we create for her.
She is flexible and photogenic and easy to love.

Q4. How do you decide on a name for a release?
A4、The name just pops up in my mind. It's the initiation process that puts the soul into that particular style.

Q5. If Blythe was a human girl, what would you like for her to do? What kind of girl would you like her to be?
A5、If she were my daughter I would help her find something she can be passionate about.
I would want her to strive to be her best in everything she does. I would want her to be compassionate and kind and full of love and laughter.
I would want to her greet people with a happy smile and joyful voice.

Q6、Please tell me the chance to start the charity exhibition.
A6、We all should do what we can to give back. It's easy to say I gave to charity once or twice but to make it a project and get others to give as well was very rewarding for our soul.

Q7. Any dolls you would like to eventually make or events you would like to organize?
A7、I would like to collaborate with fashion designers from all over the world. And hold a fashion show.

Q8. What inspired the creation of the first anniversary doll?
A8、It was important for us to remember when Blythe was resurrected. The neo Blythe needed her own identity and birthday.
Having an Anniversary doll equals a Birthday celebration for Neo.

Q9. What makes the anniversary doll important?
A9、She is the most important doll of the year. She is a milestone of hard work and deligence.

Q10. What do you keep in mind when you produce the Anniversary doll?
A10、She must be gorgeous. She has to be elegant. She has to be memorable.

Q11. Why did you choose the unicorn as this years theme?
A11、Because everyone loves a unicorn. A unicorn is a symbol of strength and goodness. It represents all of the Blythe fans hearts and souls.

Q12. What sort of girl is Unicorn Maiden?
A12、Unicorn Maiden is pure at heart and more than fairy she can make miracles happens.
She will work wonders in the most desolate of times and we can depend on her to protect us.

Q13. Please tell us about your fashion.
A13、She is on a cloud surrounded by rainbows. She is flying in the sky and lives in a colorful fantasy world. All of that is expressed in her dress.

Q14. What are some characteristics the doll has?
A14、She has beautiful pink hair that almost a mixture of pastel and crystals. Her makeup is natural and healthy yet beautiful and elegant.

Q15. How will you play with Unicorn Maiden?
A15、She will be great o photograph with Mermaid Tasha.