2018.05.10
Blythe 17th Anniversary Topics! Here's This Summer's Doll and Event News!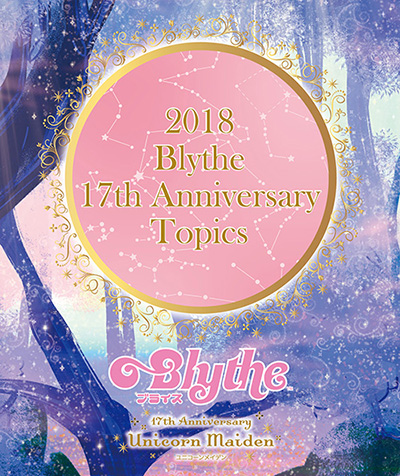 The first Neo Blythe was released June 23rd, 2001.
This year is the 17th anniversary since the first Japanese release!
Countless dolls, events, and memories with fans old and new alike have been made since then.
We will continue to release many enchanting dolls, goods, and events in the future!
In the meantime, take a look at what's coming up this summer:

★★★★★★★★★★★★★★★

Junko Wong Interview
Our yearly traditional interview with Blythe's Creative Producer Junko Wong will be coming soon!
Read about Blythe's birth, the path to success, about the doll, and what comes after with the person most knowledgeable of Blythe!

Mid-May release

★★★★★★★★★★★★★★★

17th Anniversary Doll
This year's Anniversary, we are releasing a new Anniversary Doll in the summer!
The theme for this year is "Unicorn".
Its horns are said to heal any disease and will only open it's heart to those with pure souls.
This year's Anniversary doll will feature a Blythe that seems as though has melded with a Unicorn.

17th Anniversary Neo Blythe "Unicorn Maiden"
Release: August 2018
Price: 26,700 JPY + tax

Illustration info will be released late May
Final specs will be released late June
Image illustration will be released mid July

★★★★★★★★★★★★★★★

Blythe Pop-up Shop "Junie Moon"
A timed exclusive Junie Moon will open in locations at Tokyo, Sendai, Yokohama, Osaka, Hakodate, and more!
We are selling Blythe dolls and goods!

More info will be available mid-may

★★★★★★★★★★★★★★★

New events at Junie Moon store locations!
Many new Anniversary events are coming soon.
Look for the perfect dress or take a look at customs, all done by fans for the fans!
Come with your Blythe!

Daikanyama
Blythe Summit
June 19th (tue) ~ July 8th (sun)
http://daikanyama.juniemoon-shop.com/

Osaka, Horie Location
nuts_doll exhibition "Rainbow"
June 14th (wed) ~ June 26th (tue)
http://osaka.juniemoon-shop.com/

★★★★★★★★★★★★★★★

Doll clothes brand "Dear Darling Fashion for Doll" debuts!
This summer, Junie Moon Dolly Wear is evolving! We will be releasing a collab dress set with a famous lolita brand as a first release!

New website release mid June

★★★★★★★★★★★★★★★

*Please understand the above schedule may change without announcement.