2018.06.05
We proudly present to you Unicorn Maiden, this years Anniversary Neo Blythe!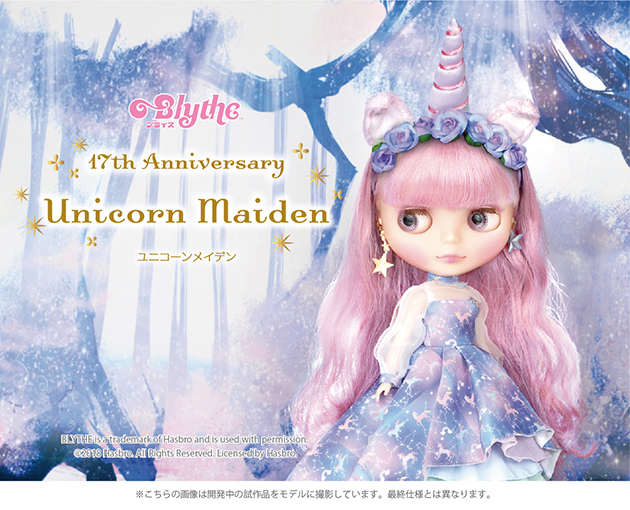 The unicorn and the maiden are two parts of one whole.
Pure and divinely beautiful, please enjoy this image cut of Unicorn Maiden strolling through the forest.
(*This image was taken with a prototype version of the doll and does not represent the final product.)
The details of the final version will be released around the end of June, but we will be updating you with specifications a moment earlier.
Face Type: Radiance Renew
Face Color: Cream (Translucent)
Makeup: Pearl Pink eye shadow (pink-purple eyeliner around the edges, with white highlights at the bottom of the eyehole), pink lips with the edges blurred, pink cheeks
Eye Color: light blue(front, with hologram), light pink (right), light blue (front, with star prints), light purple (left) *All special colors
Eyelid: Pearl pink
Eyelash: Light brown *special color
Hair Color: Purplish pink
Earrings: A pair of silver and yellow star earrings
Manicure: Pink
Set Includes: Doll, dress, overdress, belt, cape, socks, hat, hair extensions, earrings, tights, pannier (short, long), and dress stand (12 cm)
Available: August 2018
Price: 26,700 JPY + tax
*The final product may vary from the current iteration.