2018.07.10
CWC Produced Collaboration! Blythe & Rilakkuma Super Stars Illustration!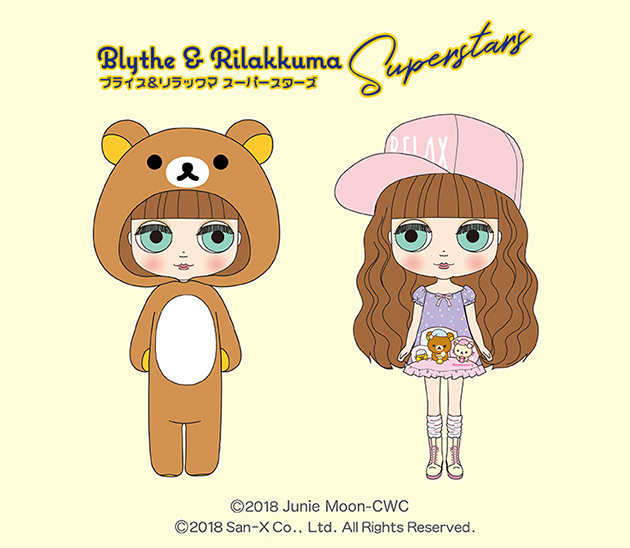 Rilakkuma and Blythe are collaborating! Rilakkuma is an internationally known character whose sleepy demeanor and nonchalant attitude who has garnered love from all ages.
Story
Waking up in my Rilakkuma jammies, all I want to do is to relax in this 5 Star hotel and make plans for the day ahead...
Should I go to my favorite second-hand clothes shop? It's a great place to find amazing fashion and to stimulate my creativity.
Just the other day, I found a vintage Rilakkuma Tshirt!
I might just wear that on stage the next time I'm performing. Hey everyone, come in Rilakkuma clothes! Let's make it a party!
Any superstar needs their off time, and the perfect outfit to relax in.
These Rilakkuma pajamas will gently encase Blythe and are adorable at the same time.
When leaving the hotel room, go out in a Rilakkuma and Korilakkuma and Kiiroitori printed dress along with a logo cap! Her feet are also coordinated with a pair of border socks and lace-up boots, color coordinated and perfect.
Her face color is a translucent cream, and her hair is brown, cut straight across the bangs with a slight perm. Her eye shadow is brown, and her cheeks and lips are pink.
Her eyes are light green.
Final specs for Blythe & Rilakkuma Super Stars are coming soon!
*The illustration is a design and does not represent the final product.
Available: August 2018
Price: 17,400 JPY
-------------------
For international Blythe fans, this exclusive doll can only be purchased
through Juniemoonshop.com.
Because of the licensing agreement with the licensor of the Rilakkuma
character, sales of this doll are limited to the following countries:
・USA
・China
・Hong Kong
・Taiwan
・Korea
・Malaysia
・Philippines
・EU (28 member countries)
Belgium, Bulgaria, Czech Republic, Denmark, Germany, Estonia, Ireland,Greece, Spain, France, Croatia, Italy, Cyprus, Latvia, Lithuania, Luxembourg, Hungary, Malta, the Netherlands, Austria, Poland, Portugal,Romania, Slovenia, Slovakia, Finland, Sweden, UK